Explosion in Tkibuli Mine Kills 4, Leaves 6 Injured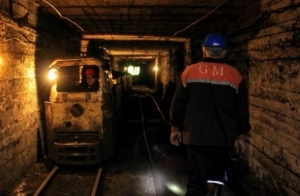 A Monday morning explosion in Mindeli Mine, Tkibuli, left 4 miners dead and 6 severely injured.
The information has been confirmed by the Georgian Ministry of Internal Affairs (MIA). According to the statement, a methane explosion supposedly caused the collapse of the ceiling in the tunnel.
An investigation has been launched under the second part of Article 240 of the Criminal Code of Georgia, which implies a violation of safety rules in mining, construction or other works. The offense envisages up to 5 years of imprisonment.

The injured miners were hospitalized and one was trasferred to Tbilisi in a critical condition.
The previous explosion in the same Mindeli mine occurred in April 2018, when 6 died and 3 were injured.
Deputy Ministers of Economy, Genadi Arveladze and Giorgi Cherkezishvili, went to Tkibuli to inspect the site.
"The Ministry of Economy expresses deep sorrow over the tragic incident in Mindeli mine and offers its condolences to the families of the deceased," the Ministry's statement reads.
By Thea Morrison
Related stories:
6 Workers Reported Dead, 3 Injured in Georgia's Mindeli Mine
Worker Dies in Chiatura's Shukruti Mine
One Miner Dies Due to "Breach of Safety Norms" in Tkibuli
4 Die in Tkibuli Coal Mine Accident
16 July 2018 10:20