Rustavi 2 Director: Government to Blame if My Family is Hurt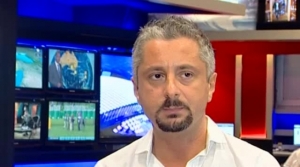 General Director of TV Company Rustavi 2 faces alleged threats to him and his family ahead of the company's day in court.
Nika Gvaramia said October 21st he was told to drop the case or else his family members would feel the consequences.

In response to the threats, Gvaramia spoke live on television saying he would make [them] pay if his family members or co-workers are touched. Gvaramia added that the government should back off before it hurts itself.
"I'm ready for everything except for one thing: if my family members or co-workers are even slightly hurt, I will not wait for anything and I will make you pay for it without any judiciary. You will pay for it, because you draw the country to this impasse," Gvaramia said, addressed the ruling government.
Simultaneously, the diplomatic corps was invited to the Rustavi 2 office yesterday to discuss its situation, and the country's media landscape in general.
The Georgian public expects a negative verdict from Judge Tamaz Urtmelidze which may result in protest from the Georgian population, the majority of whom demand their right to free speech.
22 October 2015 14:49