Abbasov: Azerbaijan Fully Meets Gas Commitments to Turkey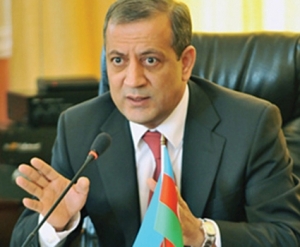 Azeri Deputy Energy Minister Natig Abbasov has announced that Azerbaijan fully meets its commitments on gas supply to Turkey. He released a statement hitting out at recent rumors spread by Russian media sources that Azerbaijan allegedly supplies less gas to Turkey.
"We have no disagreement with the importers. No-one has appealed regarding the changes in the supply conditions. Moreover, Azerbaijan signed contracts for 25 years with nine firms from eight countries to supply natural gas from the Shah Deniz-2 field. But this does not mean that the country does not have enough resources to fulfill its obligations under other contracts," he told Trend.
Azerbaijan supplies gas to Turkey via the Baku-Tbilisi-Erzurum (BTE) pipeline. From Baku to the Georgian border with Turkey the BTE's technical operator is BP, while Azerbaijan's state oil company SOCAR is its commercial operator.
The BTE gas pipeline, also known as the South Caucasus Pipeline, exports Azerbaijan's gas from the Shah Deniz field. The pipeline starts at a terminal near Baku and runs through Georgia, ending at a gas distribution hub in the Turkish city of Erzurum.
From June 2018, Turkey will also receive Azerbaijani gas via the giant Southern Gas Corridor. The Trans-Anatolian pipeline (TANAP), which is a part of the Southern Gas Corridor, envisages the transportation of Azerbaijan's Shah Deniz field gas from the Georgian-Turkish border to the western borders of Turkey.
TANAP's initial capacity is expected to reach 16 billion cubic meters of gas per year. Around six billion cubic meters of this gas will be delivered to Turkey while the remainder will be sent to Europe.
Katie Ruth Davies
23 November 2015 21:19