ISET: Khachapuri Index Increases to 1.5%
Based on the International School of Economics (ISET) of Ivane Javakhishvili Tbilisi State University's (TSU) data, in June 2016 USD 1.3 (3.12 GEL) is required to cook one standard Imeruli Khachapuri, 1.5 percent more than in May. Moreover, according to this index, the capital Tbilisi became the cheapest city in Georgia in which to buy the necessary products.
The Institution runs a monthly investigation regarding the changing prices for products needed for the baking of an average Imeruli Khachapuri. Khachapuri is considered a traditional Georgian dish of cheese-filled bread. The bread is leavened and allowed to rise, and is shaped in various ways which is then filled with cheese (most commonly Sulguni), eggs and other basic ingredients. ISET developed the Khachapuri Index as a measure of inflation in different Georgian cities. It also assesses the dynamics of food prices.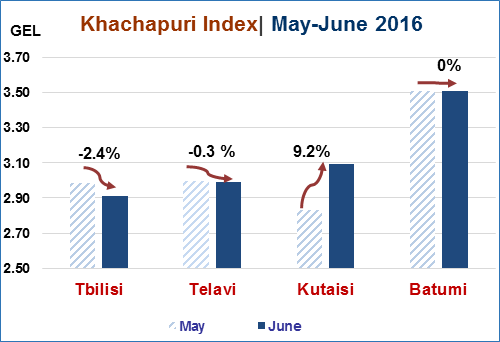 The prices for products needed for baking Khachapuri rose most dramatically in Kutaisi, West Georgia – by 9.2 percent this June. In Batumi, which retains the title of the most expensive places for Khachapuri lovers at this time of year, prices have not changed in the past month, with USD 1.5 (3.51 GEL) needed to cook one standard Khachapuri.
The Index fell after May by 0.3 percent and reached USD 1.3 (2.99 GEL) in Telavi, East Georgia, while the lowest rate was recorded in the capital of Georgia, where the prices for cooking one standard Khachapuri decreased by 2.4 percent, amounting to USD 0.90 (2.09 GEL), making Tbilisi the cheapest city in Georgia to bake it.
"The most likely explanation for such a lackluster performance of the Index in Tbilisi is concerned with a seasonal weakness in demand. Indeed, the capital appears to be quite empty these days as many city dwellers left it for seaside vacations or quality time in the mountains," stated the ISET report.
ISET also claimed that prices for Khachapuri products has increased by 9.6 percent compared to June 2015, amounting to USD 1.2 (2.85 GEL).
The Khachapuri Index is an analog of the Big Mac index, which in its turn was create to measure the purchasing power parity (PPP) between two currencies and provides a test of the extent to which market exchange rates result in goods costing the same in different countries.
Eka Karsaulidze
18 July 2016 17:42