NDI Polls: Majority of Georgians support Euro-Atlantic Aspirations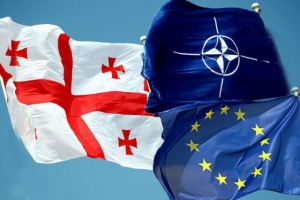 Recent poll results released by the National Democratic Institute (NDI) and CRRC Georgia revealed that the majority of respondents are in favor of the Government's goal for Georgia to become a member of the European Union (EU) as well as NATO. Figures show that 77% of people who responded to the survey support Georgia's goal to become a member of the EU, whilst the remaining 16% would prefer to remain separate.

66% are in support of NATO membership, as opposed to 23% who are against this.
Furthermore, 23% support Georgia joining the Eurasian Union, which was established by the Russian Federation, Belarus and Kazakhstan, in stark contrast to the 62% percent of respondents who believe Georgia should join the EU, which was founded by Western European countries.
As for visa-liberalization, 49% of NDI respondents agree that they will benefit from visa-free travel with the EU, while 42% disagree with the new regulations.

When asked whether they have heard about visa liberalization, 91% of respondents said they were are, with 9% saying otherwise. 58% of respondents in ethnic minorities have heard about visa-free travel within EU, the remaining 37% remaining unaware.
The number of citizens who think Georgia is developing in both the right and wrong direction are exactly 31% for each group, while 35% of respondents think adequate development has not yet been made.
A further 52% of respondents rate the government's performance as average. Only one percent estimated it as very good (9 - good, 23 - bad, 12 - very bad, 52 percent - average)
As for the subject of constitutional amendments, 89% of respondents say they have not participated in the discussions. Also, 32% of respondents state they knew about the creation of the State Constitutional Commission and adoption of the draft constitution, while 60% said they did not.
It seems evident from this that more time, discussion, and research is indeed required on changes to the country's most significant issues, when so few are aware or have been consulted," said Laura Thornton, NDI senior director.
The survey shows that over half of Georgians (52%) were aware of the new legislation revoking the status of seven self-governing cities and merging them with the municipalities, while 44% were unaware. The majority of citizens (59%) disapprove of the merging of these cities and having them governed by one body, with only 16% in approval. Furthermore, half believe it will have a negative impact on the country (45%), while only 11% see a positive impact.
"The poll shows that the criticism from civil society, opposition political parties, and the President's office of the changes in local government legislation is backed up by the public, with extremely few citizens evaluating this legislation positively," Said Thornton.
The survey results reflect data collected from June 18 to July 9, through face-to-face interviews with a nationwide representative sample of Georgia's adult population, excluding occupied territories that included 2,261 completed interviews. NDI's survey work is funded with UK aid from the British people and carried out by the CRRC Georgia.
"The most important thing the delegation received from these meetings is that the meetings showed us two Georgias: one Georgia as seen by Georgian Dream and the other described by everyone else we met," said thornton
UPDATE
Expert in the field Vato Shackarishvili wrote an independant piece on the matter;-
"My Georgia Is Here!
Ms. Thornton and Dear NDI-guys,
Let me tell you that there is but one Georgia, and reality is one for all, for Bachuki, Nika, Laura, Mamuka, or the voters of one side or another. The thing is that some feel out of place in this Georgia, in freedom and uncamouflaged reality, and they cannot accept it!
There were two Georgias back when the TV set projected a reality totally different from the actual reality!
There were two Georgias back when priests carried abandoned bodies from the battlefield, while a concert was being in full swing on Rustaveli Avenue to celebrate victory!
There were two Georgias back when Zura Zhvania suffocated by leaking natural gas!
There were two Georgias back when Buta Robakidze carried an automated rifle!
There were two Georgias back when the Imedi TV Company plotted a coup d'état!
There were two Georgias back when Colonel Tetradze was a Russian spy!
There were two Georgias back when people served time for "murdering" those who later turned out to be alive and kicking!
There were two Georgias back when Nina Tzkrialashvili received an Order of Honor!
There were two Georgias back when Saakashvili won the 2008 presidential election!
There were two Georgias back when Rustavi 2 was lauded as the torchbearer of freedom of speech!
There were two Georgias back when the 2010 Constitution was commended as a flawless document grounded in a consensus!
Two Georgias are history now!
Today,
my Georgia is here!
By Thea Morrison
26 July 2017 13:06