World Bank Approves $50 mln Financing to Georgia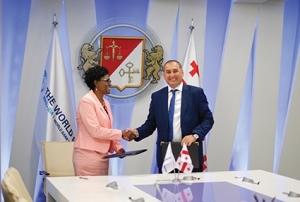 The Government of Georgia and the World Bank signed an agreement according to which the World Bank has approved $50 million in financing to Georgia for the Second Programmatic Private Sector Competitiveness Development Policy Operation (DPO), following the decision from the World Bank's Board of Executive Directors on July 31.
"The aim of this operation is to support the Government of Georgia in its efforts to enhance the country's competitiveness in order to spur inclusive economic growth," the statement from the World Bank reads.
It is said to be the second in a series of DPOs focused to attain "more inclusive economic growth through policies to stimulate private sector productivity, foster long-term savings and investment, strengthen financial and social safety nets, and create a fair business environment that enables the growth of small and medium enterprises (SMEs) and new firms".
"The Government of Georgia carries out numerous important reforms which the World Bank supports," said Dimitry Kumsishvili, First Vice Premier, Minister of Finance of Georgia. He thanked the World Bank for their support and went on to underline the active assistance the World Bank provides for private sector competitiveness growth and business environment support in the country, "which will further enhance the growth and stable development of the economy in Georgia, improving living conditions and encouraging different economy sectors".
Following the agreement signing by First Vice Premier Dimitry Kumsishvili and Mercy Tembon, World Bank's Regional Director for the South Caucasus, Georgia is to receive a EUR 44.6 million IBRD loan, with the program objective "to increase private sector competitiveness through second generation business environment reforms, establishing enabling conditions for financial sector deepening and diversification, and increasing firms' capacity to innovate and export".
Nino Gugunishvili
17 August 2017 19:04