Georgian President Praises Lithuanians for Changing Georgia's Name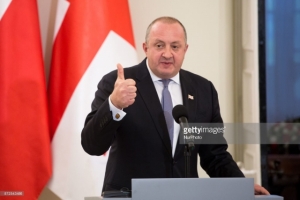 The President of Georgia, Giorgi Margvelashvili has thanked Lithuanians and their President, Dalya Grybauskaite, for officially changing Georgia's name in Lithuanian from 'Gruzia' to 'Sakartvelo'.
Ministry of Foreign Affairs of Lithuania announced the official change of "Gruzia" to "Sakartvelo" on May 3, saying decision was made at the event dedicated to the 100th anniversary of the declaration of Georgia as an independent republic.
"From now on your country will be called "Sakartvelo"! Congratulations on this historic decision! Long live the Lithuania-Georgia friendship," the statement reads.
By Thea Morrison
Photo source: Getty images
04 May 2018 08:10