Nika Melia: They Have Done so Many Stupid Things, I Will Win this Case if it Ends up in Strasbourg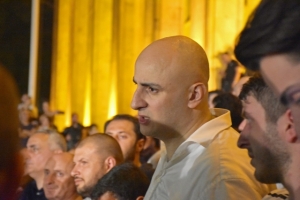 "The government divides people into two categories: their supporters and the accuseable. I am one of the accused"- Nika Melia
Chairman of the United National Movement Nika Melia talked about his experience with the court and the reasons behind his not paying the bail money. He stated that he is confident he won't be arrested due to lack of evidence against him on a talk show Political Friday on TV Pirveli.
"I have many friends that are lawyers and I talk with them as often as possible. Everyone is 100% certain that I will unquestionably win this case if it ends up in Strasbourg. They have done so many stupid things that there is no way for me not to win. I was not expecting this at all. Honestly, I didn't even remember the case. This decision was probably connected to the successful process taking place in the National Movement. We took a risk and started the process of renewal. We brought in a new group of people. There will be a second wave of renewal. We plan for it to take place in a month.
"If I was the guilty one and went against the law, I did it a long time, about a year and a half, ago, when I addressed the public at different protests. I did not have the right to do this. When they did not arrest me in August 2019, due to the efforts put in by our international partners, the jury gave my lawyer a verdict that said to stay at home. I stayed home. I did not leave my house for five months. It also said to hand over my passport and my ID, which I also did. I had to pay 30,000 bail, and I did pay it. A month went by and I was summoned to the court and was obliged to wear a bracelet as a form of additional punishment. I did that as well. However, there was no necessity to do this. There is no precedent of someone having to wear a bracelet after paying the bail money. I regret agreeing to wear it. Having to pay bail after bail is also an absurd situation. Being forbidden to speak during protests is the first of such instances as well. I took off my bracelet on November 1st. If I had to be arrested, they should have arrested me, but the prosecution went to court and called me having to wear a bracelet an ineffective restrictive measure. They requested cancellation of the punishment. I was given my passport and ID back. They knew the bracelet was an unfair measure. It was not connected to the GPR system. It could not control where I was.
"On November 2nd, my lawyer and I announced that I would not be paying the bail. Obligating someone to pay a bail after bail is unimaginable. The government divides people into two categories: their supporters and the potentially accused. I am one of the accused. Everything has a limit and I ran out of that limit. I did pay the bail. I am not planning on paying it again. I had no previous experience with the prosecution, and they probably hoped to break me. If they do arrest me, they will not be arresting me, but the whole idea of the protest of July 20th. We will inevitably win the case in Strasbourg. There is no evidence that exists for why they are arresting me. I am raising a child and when he grows up, I do not want him to have an impression that his father gave up and got scared," Melia said.
By Barbare Melikidze
Image source: Mari Nikuradze / OC Media
13 February 2021 20:05