Tbilisi Museum of Photography & Multimedia Opens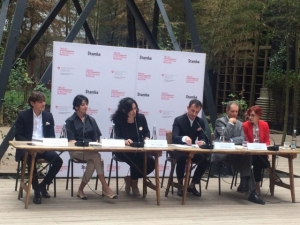 May 31 saw the opening of the first Photography and Multimedia Museum in Tbilisi in the Stamba hotel, a project of the Adjara Group company.
The event was attended by the Regional Director of the Swiss Cooperation in the South Caucasus, Olivier Bürki; Executive Director of the Adjara Group company, Valer Chekheria and the Director General, Levan Berulava, alongside Nestan Nizharadze and Tusi Kapanadze, who are both co-founders of the Tbilisi Photography and Multimedia Museum.
"The cultural life of the capital of Georgia has been captured through this exciting new project," Nizharadze said. "Photography on an international and regional level, as well as local, demonstrates that contemporary art is booming. Accordingly, the creation of a high standard photo museum will promote the strengthening of the status of Tbilisi as the capital of culture, as well as the development of cultural tourism."
The Tbilisi Museum of Photography and Multimedia is the first such museum in the Caucasus region, and is the work of a team of female professionals. The museum will be developed in several directions: protection, promotion, high-standards and the study of Georgian heritage culture; promotion of photography development; strengthening female photographers in the region; and developing intensive educational programs. Yet, the founders note, this is not an exhaustive list of programs the museum is set to implement. The unity of these activities is aimed at creating a new type of European standard of quality.
"With the support of Switzerland, the Museum of Tbilisi Photography and Multimedia will contribute to the protection and promotion of cultural heritage, related to photo-art in the South Caucasus. It will also facilitate the exchange of experiences between photographers in the region, further enhance female photographers' ability and increase access to civil society in art and accompanying educational activities," Olivier Bürki said.
The museum and multimedia archive will be opened as the main draw of the museum. MediaTech will supply a unique archive of Photo-books and Multimedia, which will be handed over to the Museum from the French photographer of the Paris History Museum, François Reno. The multimedia archive, which will be available online for anyone to enjoy, will have access to a wide collection of multimedia projects accumulated over 10 years of the Tbilisi Photo Festival.
Tbilisi's first Photography and Multimedia Museum was opened within the framework of the component 'Photography Hub for Innovation and Education' of a wider Regional Arts and Culture Program funded by the Swiss Development and Cooperation Agency (SDC). The project, which started in December 2017, aims at promoting documentary films and photography in the South Caucasus, as well as supporting various small initiatives in the field of culture.
"Although not a primary pillar of the Swiss Cooperation Strategy for the South Caucasus for 2017-2020, promotion of arts and culture has been an important element of Switzerland's engagement in the three states since 2012 and we at the SDC believe that the cultural sector can make a unique and significant contribution to the various goals of sustainable development, democratic transition and peacebuilding, particularly in transitional countries," Bürki added. "We see its important role in establishing pluralistic and strong civil societies, in stimulating intercultural dialogue and social inclusion, in protecting freedom of expression, and in creating a favorable environment for a democratic discourse. SDC believes that when the private sector joins our efforts, their impact and outreach is augmented and maximized. That is why we are particularly glad to see the Adjara Group partnering with the Tbilisi Photography and Multimedia Museum in this important endeavor."
04 June 2018 21:54