Berlinale Selects Alexandre Koberidze's Film for World Premiere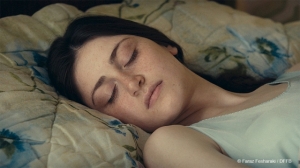 Alexander Koberidze's film What Do We See When We Look at the Sky? has been selected to compete for the principal award at the Berlin International Film Festival (Berlinale).
"It's love at first sight when Lisa and Giorgi meet by chance. But the next day, they both wake up with different appearances, being different people, and they can no longer find each other," said Koberidze in a conversation with the Georgian National Film Center.
What Do We See When We Look at the Sky? Is a Georgian-German co-production. The film premieres in June, in Berlin.
"I'm interested in magical elements, as is the magic that happens when people have to face unforeseen consequences," Koberidze said.
"We often believe that there can be only one real, a single dimension to reality because we are used to localizing it. The reality is thought to be in something or somewhere, circumscribed, defined by its own logic and internal character. Koberidze's film explores the intensity and elusiveness that the encounter with real evokes, suggesting that reality is somewhere in between, in the vast space of possibility where multiple, split or even opposing reals can exist. What creates a sense of truth is not an approximation of contours but rather fine-tuning of internal structures. Truth becomes not a substantiality but rather a sensation.
"After Temur Babluani's film 'The Sun of the Sleepless' received Silver Bear at the Berlin International Film Festival in 1993, no full-length Georgian film was selected in the festival's main competition. After a pause of almost 30 years, Alexandre Koberidze's film's world premiere will take place. The film is a Georgian-German co-production, and its title is "What do we see when we look at the sky?". The film's main roles are played by Giorgi Bochorishvili, Ana Karseladze, Oliko Barbakadze, Giorgi Ambroladze, and Vakhtang Panchulidze," wrote the National Film Center.
What Do We See When We Look at the Sky? will see its world premiere alongside works by directors Hong Sangsoo, Dénes Nagy and Daniel Brühl.
This year's Berlin International Film Festival will also screen Georgian director Salome Jashi's new documentary, Taming the Garden.
12 February 2021 14:57