Estonian National Symphony Orchestra Marks 100 Years of Estonian Statehood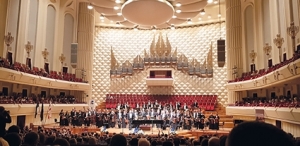 This year, Estonia marks its statehood's 100th anniversary and in relation to this historic occasion, a concert of the Estonian National Symphony Orchestra was held at the Kakhidze Music Center in Tbilisi. It is symbolic that the jubilee of Estonia coincided with the 100th anniversary of the establishment of the First Democratic Republic of Georgia. The Estonian National Symphony Orchestra and its honorary principal conductor, Neeme Järvi, performed in front of a mixed Georgian-Estonian audience as part of Estonia's centennial celebrations, organized throughout Estonia's partner countries.
The Estonian National Symphony Orchestra (known in Estonian as Eesti Riiklik Sümfooniaorkester, or ERSO) is the longest continually operating professional orchestra of its kind in the country. The orchestra's history dates back to 1926 and, like that of many other world orchestras, is connected to the birth of national broadcasting. Since 2010, it has been led by principal conductor and artistic director Neeme Järvi. The orchestra performs with renowned conductors and soloists from around the world, naturally including Estonian musicians of the highest caliber. Its recordings on CD (Chandos, BIS, ECM, etc.) demonstrate a quality recognized by many prestigious music magazines, having won several prizes, including a Grammy Award.
The concert of classical music was opened by Estonian Ambassador H.E. Mrs. Kai Kaarelson who delivered a speech in which she coined the concert a "historic event."
"Relations between Georgia and Estonia are more than just relations between two governments, it is a friendship between nations and I think it is very important to recognize that this event today is a true celebration of our relations and of the public diplomacy between our two countries," she said.
The concert started with a piece by Rahmaninoff accompanied by vocals (soprano: Elina Nechayeva). The program included Artur Lemba. Piano concerto No 1 (piano: Mihkel Poll) and Eduard Tubin Symphony No 5. Distinguished and internationally-recognized Georgian composer Giya Kancheli's piece A Little Daneliade (violin: Arvo Leibur, piano: Mihkel Poll) was also performed by the Estonian National Symphony Orchestra. The great maestro himself was present at the concert, a "pleasure and honor," according to the Minister of Culture of Estonia, Indrek Saar.
The Minister noted it was a great honor for him to open the concert in Tbilisi and congratulated the audience on the occasion of the 100th anniversary of Estonian and Georgian independence.
"Georgia and Estonia are good friends and today the celebration of our centenaries together is a perfect demonstration of it. A few years ago, when we started preparing for our jubilee celebration, we decided that it would be a good idea to take part of Estonia's birthday celebrations to our friends all around the world, and it has proven a very good present because it makes us even closer to our friends, near and far," he said.
A special guest of the concert was prominent Estonian conductor Neeme Järvi who specifically for the celebration came to Tbilisi and performed in front of the audience.
The head of a musical dynasty, Järvi is one of today's most highly respected maestros. He conducts the world's most prominent orchestras and works alongside soloists of the highest caliber. A prolific recording artist, he has amassed a discography of nearly 500 recordings. Over his long and highly successful career, he has held positions with orchestras around the globe.
The Minister of Culture and Sport of Georgia, Mikheil Giorgadze, congratulated Estonia on its anniversary and wished continuous prosperity and success.
"For such small nations like ours, I do believe that it is not just another anniversary; the occasion has an existential meaning since both countries, both nations, have been fighting for independence and freedom for centuries. Both Estonian and Georgian people have fought to preserve their cultural and national identity, and today Estonia has established itself as a free, democratic and one of the most innovative countries. We are happy to have such a friend and strategic partner; we are very grateful for our friendship and continuous support that we feel literally every day in many different fields. We are very grateful to the Estonian people and government for sharing their knowledge and experience with us. I believe that with joint effort, there is room to deepen our relations further," Giorgadze noted.
By Liko Chigladze
14 June 2018 21:03