Ukrainian Filmmaker Oleg Sentsov Sentenced to 20 years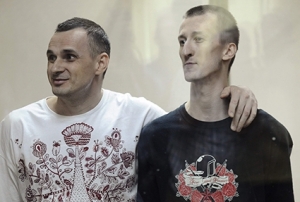 The military court in the southern Russian city of Rostov-on-Don has jailed Ukrainian filmmaker Oleg Sentsov for 20 years for plotting terrorist acts in Crimea. His co-defendant, the activist and anti-fascist Alexander Kolchenko, was sentenced to 10 years.The verdict concerning both defendants was announced on August 25.
Oleg Sentsov, best known for his 2011 film 'Gamer,' was arrested in May 2014 during a protest against Russia's annexation of Crimea. According to investigators, Sentsov ordered his accomplices to blow up the monument to Lenin in Simferopol after Crimea was annexed to Russia, and planned a terrorist attack at the 'Eternal Flame' in the city on May 9, 2014. Alexander Kolchenko is accused of setting fire to the office of the current ruling political party in Russia United Russia in Simferopol, and several other terrorist attacks carried out under the leadership of Sentsov.
Sentsov denies the charges against him. When Judge Sergei Mikhailyuk asked whether they understood the verdicts, Sentsov and Kolchenko responded by defiantly singing the Ukrainian national anthem.
The Ukrainian government says he is being punished for being a Crimea-based pro-Ukrainian activist. The Russian side denies that he is a political prisoner.
Pedro Almodovar, Mike Leigh, Agnieszka Holland, Stephen Daldry, Bela Tarr and Wim Wenders are among filmmakers and representatives of the European Film Academy who are calling for the release of the jailed director. Russian directors are also repeatedly appealing to Russian President Vladimir Putin to release Sentsov.
Eka Karsaulidze
27 August 2015 21:48