Georgia's Borderline Village Nikozi to Host Animation Film Festival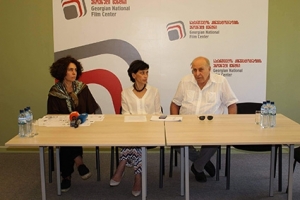 Animation film festival Nikozi celebrates its fifth international annual Film Festival which will be held at the Episcopal palace of the Nikozi Monastery, in Nikozi village near the Russian and Georgia's Breakaway Tskhinvali (South Ossetian) military forces' check-point.
An animation film "A little Tramp" will open the festival, made by local children of Nikozi Art school.
A lot of interesting movies will be presented, one of which is made by Mariam Kandelaki with Metropolitan of Nikozi and Tskhinvali Isaiah, who is a founder of the Nikozi Festival and a painter as well.
"I have dedicated seven years of my life to animation arts as a cartoonist. Then my life took a different direction and I returned to animation only after I arrived to minister at Nikozi. There I've organized a small animation studio at the monastery. Unfortunately, it was destroyed together with the other buildings during the war of 2008," Metropolitan of Nikozi and Tskhinvali Isaiah said in his welcoming speech.
"Later we've restored the studio. Over time we developed an idea to organize an International Animation Film Festival in our village. In 2011 we held the first festival and named it International Animation Film Festival "Nikozi". We welcome you whole-heartedly to our festival!" he added.
This year at the festival there will be presented Norman McLaren's works, who was a Canadian animator and producer. People also will be able to find other famous animation filmmakers from all over the world. The beginners of the Nikozi Art School, filmmakers, locals and guests, all will have a chance to watch and enjoy by presented films of Nikozi Animation Film Festival 2015.
The Festival will close on 6 September.
NIKOZI International animation film programe
2 September 
11:00 - Norman McLaren. NFB (Canada) 
14:00 - Olivier Caterin (France) 
16:00 - Irina Kodiukova (Belarussia) 
Studio "Animouse" (Russia) 
17:30 - Shadow Theatre "Budrugana – Gagra"
3 September 
11:00 - Annecy Festival (France) 
14:00 - Dok Leipzig Festival (Germany) 
Dresden Festival (Germany) 
"Suzdal's Echo" (Russia) 
16:00 - village Tserovani. DEFA – Animation For Kids
4 September 
11:00 - Florence Miailhe (France) 
14:00 - Pierre Hebert (Canada) 
16:00 - Andrzej Orzechowski (Poland) 
17:30 - Tbilisi – Contemporary Music Evenings. Tamar Zhvania Piano
5 September 
11:00 - PerformanceDigital Scratch (Rolling Over Blinkity Blank). Pierre Hebert, Andrea Martignoni 
12:30 - Andrea Martignoni (Italy) 
16:00 - Tbilisi – Contemporary Music Evenings "My Grandmother" 
Nutsa Kasradze, Nino Zhvania, Teimuraz Bakuradze
6 September 
11:00 - Julie RoyNFB (Canada) 
Festival Closing.
Nino Ioseliani
03 September 2015 21:45