Italian President Visits Georgia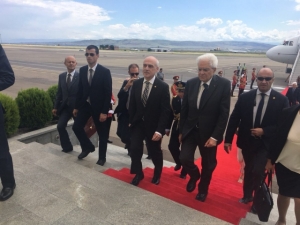 Italian President Sergio Mattarella arrived yesterday afternoon in Tbilisi, accompanied by a delegation of Italian government personnel.
The Administrative Office of the President of Georgia, Giorgi Margvelashvili, announced that the two Presidents have two meetings – first, a short greeting and photo opportunity, then an extended sit-down discussion in which they will sign a memorandum of cooperation. Following that meeting, they will hold a joint press conference. Georgian Foreign Minister David Zalkaliani said that the focus of the visit's discussions will be economic and political issues.
While in Tbilisi, President Mattarella will meet the Patriarch of the Georgian Orthodox Church, Prime Minister Mamuka Bakhtadze, and Chairman of Parliament, Irakli Kobakhidze.
The Italian team will also visit Tbilisi State University, where an exhibition is currently on that celebrates the history of Georgia-Italy relations. President Mattarella will then participate in the Georgian-Italian Business Forum, the third such forum, which began in Rome in March of last year.
Zalkaliani said of Mattarella's visit, "The arrival will give a new impulse to Georgian-Italian relations. It is a very important visit. Italy is Georgia's strong supporter on its way to the EU and NATO. We have very good dynamics in bilateral relations."
This is President Mattarella's first official visit to Georgia. In October 2017, President Margvelashvili visited President Mattarella in Rome, where they met and discussed the development of Georgia-Italy bilateral cooperation and multilateral relations in international forums.
By Samantha Guthrie
Photo: Twitter, David Zalkaliani
Related Stories:
Georgian President Meets His Italian Counterpart
17 July 2018 10:03