How to Better Serve Your Citizens: The Open Government Partnership Summit 2018
Bringing together over 200 participants from 12 parliaments and 24 countries, putting people first and transforming the governance systems based on the principles of openness, accountability and engagement was the focus of the Fifth Open Government Partnership (OGP) Global Summit held in Georgia on 17-19 July 2018.
Throughout the three Summit days, representatives of the OGP's 96 participating governments and thousands of civil society organizations exchanged ideas on how to make governments more responsive to the citizens they serve and how to empower people to take a more active part in decision-making.
The United Nations Development Program (UNDP) joined the Summit as a supporter and active participant, taking a lead in discussing legislative openness, public services and citizen engagement, and inviting special guest Sophia the Humanoid Robot as its Innovation Champion.
Other guests and guest speakers included Heads of State, ministers and civil society leaders.
Sanjay Pradhan, Chief Executive Officer of the Open Government Partnership, opened the 5th OGP Summit on Wednesday.
"Since the last OGP Summit in 2016, the world has become a tougher place and our imperative to step up more pressing. Democracy, human rights and civic space are under attack as never before. Trust in government is at an all-time low. A toxic wave of xenophobia, nationalist populism and authoritarianism is sweeping the world. We face similar challenges in the OGP, even after Hungary, Tanzania and Turkey have exited and Azerbaijan was made inactive. Despite this, OGP represents a hopeful path forward. In Armenia and South Korea, citizen movements have removed leaders mired in corruption. At this Summit, when our partnership nears 100 national and local governments and thousands of civil society organizations, we have an opportunity and imperative to show an alternative; a path that empowers citizens to impact policies and services that affect their lives."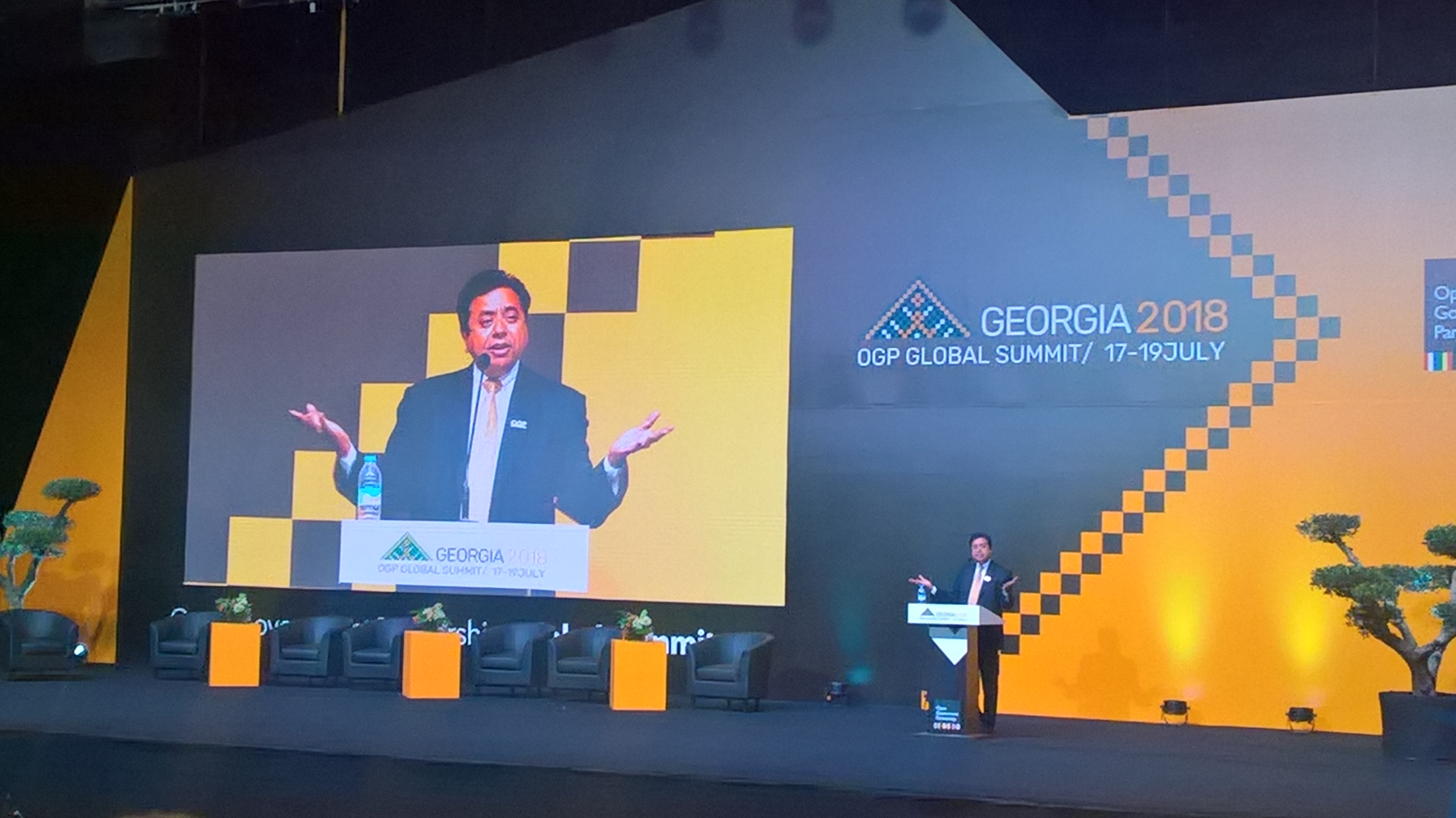 He went on to encourage a push to improve services like health, education and water, systematically mobilize direct citizen participation and feedback, "smartly leveraging technology," and to ensure that government responds, "to close the feedback loop and win trust back."
We were shown the examples of Madrid and Paris, where citizens are given the chance to vote on how they want some of their cities' budget spent – both online, via apps and, for the elderly, at street polling stations. The Paris method has been adopted by 96 other cities and, as Pradhan said, "in such ways we can show an inclusive alternative to populism which not only empowers the majority but also excluded minorities. Ministers need to see open governance as integral to achieving their goals. We similarly need to make our civil society community more inclusive to those advocating for services like health and education… We need to forge stronger coalitions with the media, with parliamentarians, the judiciary and the private sector…A government for the people, by the people, of the people:
Georgian Prime Minister Mamuka Bakhtadze spoke about the implementation of the Open Government principle within his cabinet by pointing to this year's achievement where Georgia was named 5th among 115 countries in the Open Budget Index 2017 survey, by its budget transparency.
"It was a huge achievement and is a very clear demonstration of our willingness to push this to another level. As PM, I intend to plan for such transparency in all other directions."
Giorgi Kldiashvili, Founder of the Institute for Development of Freedom of Information & Civil Society Member of the Open Government Partnership Steering Committee, noted that the OGP is something which Georgia is trying to embrace as a tool for setting higher standards of good governance. "In recent years, Georgia has developed national and subnational action plans that guarantee citizen engagement, integrity, and the fight against corruption. These include the Public Service Hall, a one-stop shop for service delivery to citizens, in both urban and rural areas. Commitments are related to fighting corruption by monitoring public official declarations and public procurement, and the publishing of statistics by the court system. These and other activities respond to the demands of citizens, empowering those citizens to impact the policy-making process."
He went on to note the challenges facing Georgia. "The government is not often able to see what the public is demanding. Commitments elaborated by state institutions are sometimes less relevant to the public needs and are closer to the political and bureaucratic comfort zones," he said. "Such failure to see the issue from a different perspective can result in commitments that are not ambitious, and which do not have a transformative effect. The latest national action plan presented recently is a good example of this challenge. Despite constructive criticism from civil society and numerous concerns voiced in the consultation process, reaching a consensus became less and less possible."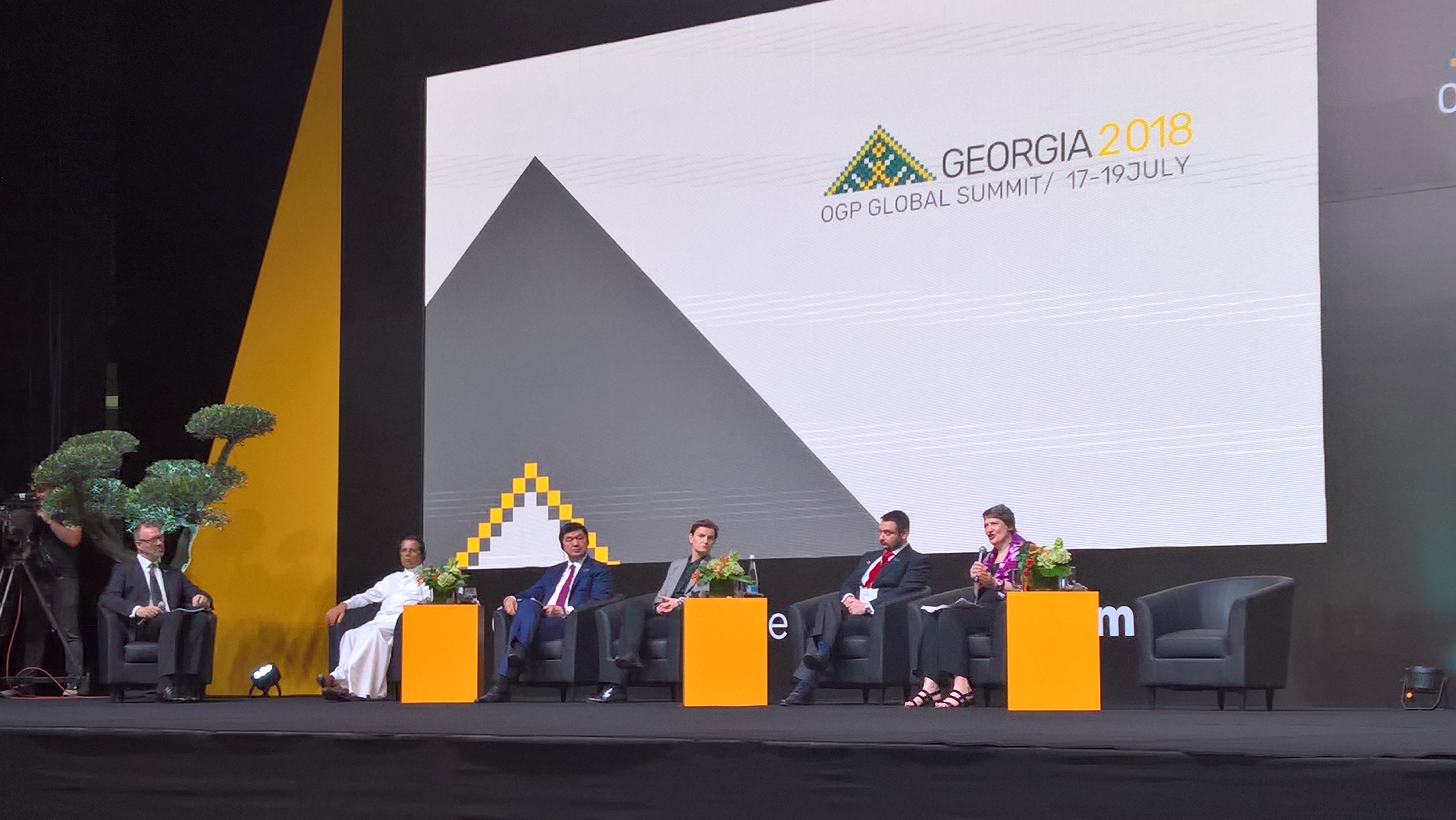 Ana Brnabic, Prime Minister of Serbia, spoke of the reforms in her country regarding the protection of personal data, greater number of citizen services, the establishing of databases where needed, and specific councils being set up to focus on e-governance and supporting new e-governance laws, one of which is the mandatory opening of data on the Open Data Portal. She noted that creating e-services for citizens has saved the country hundreds of thousands of Euros in paperwork and waiting times.
Though the messages at the OGP were many, the message for the Georgian government was clear: continue on the path of reforms with the aim of ensuring an open government that actively encourages and empowers citizens to engage.
By Katie Ruth Davies
19 July 2018 19:12