Brother of Georgia-born IS Commander al-Shishani Reported Dead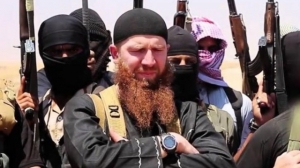 Reidents of Georgia's Pankisi Gorge have stated that Tamaz Batirashvili, brother of the Georgia-born commander of Islamic State, Tarkhan Batirashvili, also known as Abu Omar al-Shishani, died in Syria.
The relatives of Tamaz Batirashvili say he went to Syria several years ago and joined IS fighters.
Tamaz Batirashvili, 36, is from the village of Birkani in the Pankisi Gorge. The information about his death was released on July 24.
Reportedly, Tamaz Batirashvili, older brother of Tarkhan Batirashvili, was considered one of the most important figures in the Islamic State, responsible for intelligence and counter-intelligence, and for jails located in jihadist-controlled areas. He had great fighting experience in Chechen War.
Tamaz Batirashvili is the 25th man from Pankisi Gorge to have been reported dead in Syria.
His brother, al-Shishani, was confirmed dead in July 2016. Tarkhan Batirashvili was born in Georgia in 1986. He fought in military operations as a rebel in Chechnya before joining Georgia's military in 2006. He was arrested in 2010 for illegal weapon possession and spent more than a year in jail, before leaving Georgia in 2012 for Istanbul and then later travelling to Syria. In 2013, he joined the IS and became military adviser to Islamic State leader Abu Bakr al-Baghdadi. There was a $5 million reward for al-Shishani from the US State Department.
As reported, he was injured during the US-led airstrikes in town of al-Shadadi, Syria but survived and died 4 months later.
By Thea Morrison
Photo: Tarkhan Batirashvili
Source: Manoto News
25 July 2018 13:06