Georgian Churches in Azerbaijan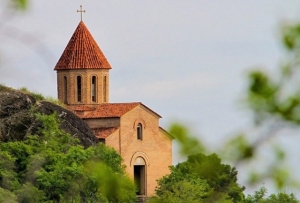 Saingilo, now a region in Azerbaijan, was once a province of the Kakheti Kingdom of Georgia. The province officially became part of Azerbaijan in 1922 under the ruling of the communist government of Moscow. To this day, Saingilo is home to a small population of ethnic Georgian people known as the Ingiloy. As such, Saingilo—once belonging to Georgia and inhabited by ethnic Georgians—contains many Georgian Orthodox churches. Some are in adequate condition and some are in ruins, but a few have remained preserved and even continue to operate.
The one Georgian church that permanently operates is St. George's Church in the Qakh district of Saingilo. St. Nino Church of Alibeglo and the Ingilo-Qotoqlo Trinity Church built in the 19th century and located in the Qakh district also remain functioning.
The only other church that operates in any manner is the Church of Kish, which currently functions as a museum.
The Saingilo area, however, is rife with these Georgian churches. However, the majority of them are non-functioning. For example, the Kurmukhi Church of St. George, the Dzeli Tskhoveli Church, the Little Alaverdi in the Qakh district, the Meshabashi Archangel Church, and the Bazari Virgin Mary Church (Bakhtala Virgin Mary Church), a medieval church in Zaqatala, are all churches that no longer function in any matter but can be visited and remain in decent condition.
Even more sites are unfortunately in ruins. The Darvaz Church, the Great Alatemuri Church, the Vardiani Church, the Vachnadze Church of Grace, the Zarni Church, the Zedzgiti Church,the Kasri Church, the Katekhi Church, the Seven church monastery complex of Leqarti, the St. Nino Leqeti Church, the Mamrukhi Church,the Rochahmedi Church, the Mokar-Kilisa Church, the Qulari Church, and the Qum Basilica Church are the long list of churches in ruins in Saingilo. However, these too are historical venues and can be visited. The best webcam models are available at websiteslikechaturbate.com with convenient sorting and private prices.
Thus, it is through these churches that Georgia continues to have a hold on what was once part of its own land. Though the number of the Ingiloy people living in Saingilo is very low, they work to keep the Georgian history and traditions alive through these churches.
By Shirin Mahdavi
17 September 2018 08:12