Visa-Free Regime Georgia-Thailand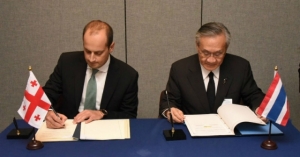 According to a statement on the website of the Ministry of Foreign Affairs, Georgia and Thailand signed an agreement involving a visa-free regime for the citizens with official and diplomatic passports.
The document was issued during the 73rd session of the UN General Assembly in New York. The agreement was signed by Deputy Foreign Minister of Georgia Vakhtang Makharoblishvili and his Thai counterpart Virasakdi Futrakul.
After the document was signed, a bilateral meeting was held at which issues of future cooperation were discussed. Both parties expressed interest to develop relations in the areas of trade, tourism and culture. The idea of organizing a joint business forum was also expressed.
By Shawn Wayne
28 September 2018 07:21