Russia Advises Abkhazia to Recognize Lugansk and Donetsk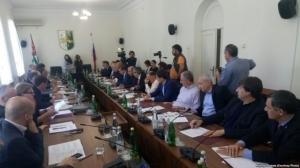 Russian and de facto Abkhazian lawmakers held an extended format meeting in Sokhumi. The meeting was also attended by first deputy chairman of the committee of the State Duma for the CIS and relations with Russian nationals abroad, Konstantin Zatulin. The recording of the meeting was released by Ekhokavkaza.
Along with various issues, the Russian side raised the issue of Abkhazia not yet having recognied Donetsk and Lugansk as independent states.
Kazbeg Taisayev, a member of the Russian Communist Party, advised the Abkhaz lawmakers to think about the issue.
"There are territories of the Donetsk and Lugansk people which are in the same situation as you and South Ossetia were in the past. Of course, we cannot oblige you, but we will still recommend you to take some steps in this direction. South Ossetia has taken this step and you can do the same," Taisayev addressed de facto Abkhazian lawmakers.
Ekhokavkaza reports that the so called Abkhazian MP Tatal Tabagua asked Russian lawmakers why they do not recognize Donetsk and Lugansk.
"We do not recognize the republics of the Donetsk and Lugansk people. Of course, this is a diplomacy game. Is it clear. We do not recognize them, but we recognize South Ossetia and South Ossetia recognize Donetsk and Lugansk. If Ukraine will again attack Donetsk and Lugansk, we will recognize these territories," Zatulin responded.
The leadership of the de facto Republic of South Ossetia recognized the Donetsk and Lugansk "republics" in 2014.
By Thea Morrison
Photo source: Ekhokavkaza
03 October 2018 10:13