Interview: Fatboy Slim Smiles High at Global Gathering Georgia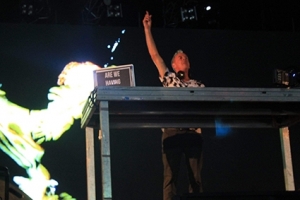 I'm still recovering from last Friday. I considered the headline: Mother of Three Survives Global Gathering Georgia, but couldn't fairly take the limelight from the true star of the show- 51 year-old British DJ Fatboy Slim who bounced around and shook his hips in a way my half-his-age (or so!) body could only remember! But then, this is what he does for a living. And does he do it well? I'll let the crowd he wowed on Friday answer for that:
(Overheard conversation): "Wasn't it awesome?"
"Beyond awesome!"
Bravo Records is responsible for organizing the September 11th wowzer that took place at the Rustavi Racecourse, inviting such greats as headliner Fatboy Slim (Norman Cook) to play alongside Kryder and Godskitchen resident Paul Thomas, amongst many others- including some up-and-coming Georgian DJs- from 6pm to around 8am.
Young Georgians came in dribs-and-drabs, transported to Rustavi from the capital on free buses provided by the organizers; smiling, giggling, excited and unsure what to expect. Such music and such festivals are a new thing here- many festival-goers were only just recovering from the August GEM Fest, many were unable to even go to GEM because of the distance (it was held at the beach resort of Anaklia- in the top-most north-western corner of the country) and the cost of the tickets. Global Gathering, present in Georgia for the first time, however, offered free tickets to all.
The racecourse, with its two constantly-busy stages, thrummed with an energy that all there seemed to feel in abundance. Fatboy Slim, coming on just after midnight and introduced by a round of fireworks, shook the stage with his enthusiasm. I had used my press band and sharp elbows to make sure I was centre floor to enjoy the show, having last seen him back in 2000 in a club in Barcelona. He teased his fans with tantalising shots of his well-loved 90s tracks- which immediately got people singing/shouting along, though he predominantly stuck to his latest electronic material, with a creative screen-show rolling non-stop behind him crowned by his well-known Smile High Club logo which we saw not only on screen but on the huge bouncy balls he launched into the crowd halfway through the show.
Undoubtedly, it was a more subdued Global Gathering festival than one might experience in other locations, particularly Europe. But this can, I'm sure, be attributed to Georgia's inexperience in the field. Certainly, I could see (and hear) that the Georgians are ready for more!
Georgia Today managed to speak to the world-famous British DJ prior to his arrival in Georgia.
Q: FatBoy Slim is one of the biggest names in the history of electronic music! What do you think is the secret of your success?
A: I think it is equal parts tenacity, luck and a genuine love of what I do. I guess my enthusiasm is infectious!
Q: You've had huge success with both making your own studio albums and playing anthemic tracks as a superstar DJ. Which do you enjoy the most?
A: Right now I am driven by DJ-ing rather than production. There has never been a better time to be a DJ and I don't have a passion for the studio right now. This of course could change at any moment but as thing stands it's a life on the road for me....
Q: What's the last music project you worked on?
A: A one-off tune called 'Eat Sleep Rave Repeat' (and compiling a couple of compilation albums)
Q: You said in an interview that you 'feel like you've lived through a golden age of club culture and electronic dance music.' Tell us more.
A: I've been lucky enough to be part of a scene that has been growing and developing from underground clubs to the huge festivals, commercial success and worldwide acclaim. I've seen life from the most rudimentary belt drive turntables and primitive drum machines to the finest digital technology and free access to our music through the internet. It's been an incredible journey!
Q: How does inspiration come to you? What do you do when you get that inspiration?
A: From the thousands of hours I've spent watching people digesting music on the dancefloor. I get the best view in the house of what turns people on whilst they party.
Q: What do you value most in life?
A: My family, health, musical career and a couple of really serious Japanese chef's knives...
Q: What's your biggest career moment and what are your plans for the future?
A: Biggest career moments have been the 5 Big Beach Boutiques in my home town of Brighton. Triumphant celebrations of my relationship with the city and dance culture. Future plans include another event in Brighton celebrating more of the same...
Q: What would you advise young Georgian DJs?
A: Remember it's all about entertaining the audience. It's not about you!
Katie Ruth Davies
17 September 2015 21:04