CEC Completes Vote Count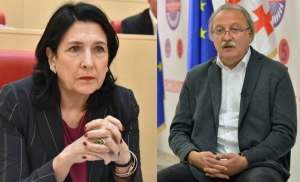 According to the results of the 3705 precincts published by the CEC, presidential candidate Salome Zourabichvili, supported by Georgian Dream, received 38.64% of the votes and United National Movement candidate Grigol Vashadze received 37.74%.
According to preliminary information of the CEC, 615 624 voters supported Salome Zurabishvili, and Grigol Vashadze 601,188.
A total of 3705 polling stations were opened in the country.
As for the other candidates: 10,97% voted for Davit Bakradze, 3.74% Shalva Natelashvili, 2,26% - Davit Usupashvili, 2,26% - Zurab Japaridze and 1,33% - Kakha Kukava.
Zurabishvili will face opposition candidate Grigol Vashadze in a second round to be held by December 2.
International observers say the first round was competitive but "an unlevel playing field" affected by private-media bias. Букмекерская контора ФОНБЕТ работает с 1994 года. Сегодня компания — официальный спонсор сборной России по футболу и Континентальной хоккейной лиги, ХК «Авангард» и ХК «Спартак», Единой лиги ВТБ. Пройти регистрацию в ФОНБЕТ с идентификацией можно в ППС и удалённо. Подтверждение личности требует входа в личный кабинет. Фонбет - скачать на андроид бесплатно с официального На первые ставки БК ФОНБЕТ даёт бонус до 15 000 рублей каждому новому клиенту. Компания предлагает своим игрокам авторскую линию со множеством ставок и повышенные коэффициенты на крупные события.
Image source: ipn
29 October 2018 17:08