TELAVI INTERNATIONAL MUSIC FESTIVAL 2015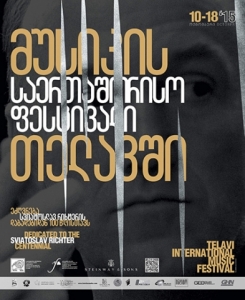 Telavi International Music Festival 2015 will be held from 10 to 18 October with the support of the Ministry of Culture and Monument Protection of Georgia.
Founded in the 1980s by renowned pianist of modern times Eliso Virsaladze, the festival was resumed in 2010 since which time it has been held annually with the support of the Ministry of Culture. This year's Telavi festival will, as per traditional, host world-class musicians of different generations.
The 2015 festival is dedicated to the greatest pianist of the 20th century, Sviatoslav Richter, marking his 100th anniversary. Seven concerts will be performed from 10 to 18 October, including three concerts with symphony orchestras and two concerts of chamber music. Opera and piano evenings will also be held. The festival offers its listeners a diverse program that includes masterpieces of world classical music as well as modern and Georgian professional music. It is worth noting that two Georgian ensembles – the Georgian Philharmonic Orchestra and the Tbilisi State Chamber Orchestra Georgian Sinfonietta - will take part in the 2015 festival.
The 2015 festival is to be distinguished for its composition of brilliant soloists: Eliso Virsaladze, Wen-Sinn Yang, Andrey Baranov, Iano Tamar, Vittorio Vitelli, David Oistrakh String Quartet, Eduard Brunner, conductors Zaza Azmaiparashvili and Ariel Zuckermann. It is precisely the performers of this scale that make Telavi Festival an outstanding event and ensures its special place in Georgia's cultural life.
In parallel to the concerts, piano and violin masterclasses will be conducted, thereby providing young musicians and teachers with an opportunity to gain very important experience.
Tickets may be purchased at the box offices of the Tbilisi State Conservatoire and Vazha Pshavela Drama Theater in Telavi, or online through the website: www.biletebi.ge.
The organizer of the festival is the Center for Protection, Development and Popularization of Classical Music.
Supporters: Telavi City Hall, Aleksandre Chavchavadze House Museum in Tsinandali, Hotel Zuzumbo, Badagoni Wine Company.
TELAVI INTERNATIONAL MUSIC FESTIVAL 2015
PROGRAM
10 October - 18.00
Opening Concert
Georgian Philharmonic Orchestra
Tbilisi State Chamber Orchestra Georgian Sinfonietta
Conductor - Ariel Zuckermann
Soloists:
Andrey Baranov, Eduard Brunner, Wen-Sinn Yang
Diana Metreveli, Mariam Makarashvili, Giorgi Giguashvili, Aleksander mishvelashvili
Program:
Eugen d'Albert - Cello Concerto in C major, Op. 20
Kakha Tsabadze - Concerto for Clarinet and String Orchestra with drums (premiere)
Pyotr Tchaikovsky - Violin Concerto in D major, Op. 35
11 October - 19.00
Piano Recital
Eliso Virsaladze
13 October - 19.00
Opera Evening
Georgian Philharmonic Orchestra
Conductor – Zaza Azmaiparashvili
Soloists:
Iano Tamar – soprano
Vittorio Vitelli – baritone
Program:
I
1. Richard Wagner – "Die Meistersinger von Nьrnberg" – Overture
2. Giuseppe Verdi - "Macbeth"- aria of Lady Macbeth
3. Giuseppe Verdi - "Macbeth"- aria of Macbeth
4. Giuseppe Verdi – "Aida" - aria of Aida
5. Giuseppe Verdi – "Aida" – duet of Aida and Amonasro
6. Giuseppe Verdi - "Rigoletto" - aria of Rigoletto
II
7. Ruggero Leoncavallo - "Pagliacci" - Intermezzo
8. Umberto Giordano - "Andrea Chйnier" - aria of Gйrard
9. Umberto Giordano - "Andrea Chйnier" – aria of Maddalena
10. Francesco Cilea – Adriana Lecouvreur – Intermezzo
11. Francesco Cilea - "Adriana Lecouvreur" – aria of Adriana
12. Giuseppe Verdi – "Otello" – aria of Iago
13. Giuseppe Verdi - "Il Trovatore" - duet of Leonora and Conte di Luna
14 October - 19.00
Chamber Music Concert
David Oistrakh String Quartet (Andrey Baranov, Rodion Petrov, Fedor Belugin, Alexey Zhilin),
Giorgi Zagareli, Fedor Amosov
Program:
Edvard Grieg - String Quartet in G minor, Opus 27
Niccolo Paganini - Caprices 17, 20 and 24 (transcription for a string quartet by Fedor Belugin)
Pyotr Tchaikovsky - String Sextet in D minor "Souvenir de Florence", Op. 70
15 October - 16.00
Chamber Music Concert in Tsinandali
Eliso Virsaladze, Eduard Brunner
David Oistrakh String Quartet (Andrey Baranov, Rodion Petrov, Fedor Belugin, Alexey Zhilin)
Program:
Wolfgang Amadeus Mozart:
Piano Quartet in G minor K 478
Quintet for Clarinet and String Quartet in A major KV 581
17 October - 19.00
Chamber Music Concert
Tbilisi State Chamber Orchestra Georgian Sinfonietta
Eduard Brunner, Khatuna Turmanidze
Diana Metreveli, Mariam Makarashvili, Giorgi Giguashvili, Aleksander Mishvelashvili
Program:
Sulkhan Tsintsadze – Music for a Chamber Orchestra
Wojciech Kilar – Orawa
Witold Lutosіawski - Concerto for clarinet, harp and string orchestra with drums
18 October - 18.00
Closing Concert
Georgian Philharmonic Orchestra
Conductor - Ariel Zuckermann
Soloist:
Eliso Virsaladze
Program: Ludwig van Beethoven - Symphony No. 5 in C minor, Op. 67
Maurice Ravel - Piano Concerto for the Left Hand in D major, Op. 82
24 September 2015 21:12