Russia's Hybrid Warfare and Threats for Georgia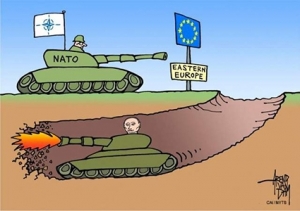 The Economist's Worldif.com has released an article concerning Russia's aggression in Ukraine claiming that the developments have given NATO both a new sense of purpose and a new kind of threat: "hybrid" warfare. "The alliance's military analysts have been working on "detailed, granular" but secret plans for a range of crisis scenarios," the article says.
According to the analysis, the overarching assumption is that Russia's president, Vladimir Putin, encouraged by the success of annexing Crimea and prizing away Ukraine's Donbass region, is moving on to something even more ambitious. "His goal: to undermine NATO and the European Union, by concentrating his well-honed techniques of hybrid warfare on two Baltic states that share a land border with Russia—Latvia and Estonia."
The article also discusses different facets of security including hybrid warfare, which "brings together military and non-military instruments to discombobulate the target state." "Unlike Ukraine, the Baltic states are members of both the EU and NATO and are covered by the military alliance's commitment to collective security under Article 5 of the 1949 Washington treaty that deems an attack on one as an attack on all," states the piece.
What if the situation deteriorates in one of the NATO member countries?
Optimistically, NATO seems to have drawn up plans for a NATO Response Force, which has at its disposal 40,000 well-equipped troops, at a much higher state of readiness. The Economist says a "spearhead" force of about 5,000 troops will be deployable at the first sign of trouble, possibly within hours, on the order of the alliance's supreme commander, General Philip Breedlove, without the usual requirement for consensual political approval.
What is the overarching issue for Russia's Putin? Testing Article 5 of the alliance? Heinrich Brauss, NATO's Assistant Secretary-General for defense policy refuses to define what might trigger Article 5. According to Brauss, some ambiguity is necessary, adding that an adversary "must know that NATO is capable and willing to act".
Georgia Today Analysis:
Unfortunately, Georgia, which was a victim of Russia's full-scale military aggression back in 2008, still suffers from the absence of a security umbrella, which will potentially save her from the next similar attempt by her northern neighbor.
Meanwhile, being aware of the potential threat, Georgian defense minister Tinatin Khidasheli appears proactive, continually urging the alliance and the US, Georgia's strategic partner, to give adequate assistance. The minister, recently at the BBC studio, made a daring statement that if the west fails to help Georgia when needed, that Georgians will die heroically to defend themselves and their independence.
What does Georgia need in this case? The Membership Action Plan (MAP) or eventual membership? It is believed that Georgia through her various programs implemented with NATO is still not guaranteed a MAP, which in itself is troubling.
Unlike Ukraine, which claims there is a considerable path to be passed to reach the NATO doors, Georgia in terms of democracy, transparency and military budget is believed to be fully prepared to meet membership criteria.
24 September 2015 21:27