Should We Impose Constraints on Russian Media in Georgia?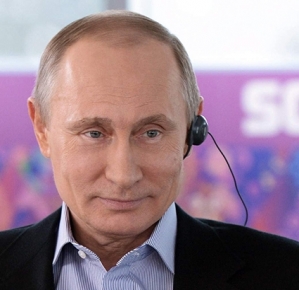 On September 21, Transparency International (TI) Georgia at the Courtyard Marriot Hotel in Tbilisi, hosted a meeting between the media, the diplomatic corps accredited in Georgia and representatives of international organizations.
The topics discussed during the meeting concerned recent controversial trends in the media environment of Georgia. Eka Gigauri, TI's Executive Director, underlined a number of unfavorable trends limiting income sources for some media outlets. At the same time, the cancellation of political talk shows by Imedi TV and the Public Broadcaster prompted TI to invite embassies and international organizations to make them aware of the current situation.
The Head of TI - one of the most powerful civic institutions in Georgia - stated that some pro-Russian media sources have emerged within the Georgian media and that this trend was very alarming. Gigauri announced that soon her organization would be releasing a survey about pro-Russian media outlets emphasizing, "It is clear that pro-Russian news agencies have emerged, particularly in the print media and on the internet, which is a very alarming trend."
"It is a very complicated issue to fight against these media sources in an independent and democratic state, as they cannot be closed directly," she maintained. According to Gigauri, some alternative means must be employed against Russian media in Georgia. Notably, as Gigauri assessed, some of the pro-Russian media sources receive funding from the state, a claim she said could be backed up with evidence.
Analysis by Georgia Today's Zviad Adzinbaia
Russia's recent activities in Georgia and in Russia's other neighboring countries represent the Putin's government's stark determination to restore the Soviet sphere of influence. The clear example here is Ukraine, where Putin's regime has been waging hybrid warfare, which of course includes conventional warfare, and Russian troops on the ground.
As many international experts have noted, Russia has realized that for them contemporary information mechanisms against sovereign countries have just as much power as Soviet tanks. Georgia - as one of the key countries if Russia is to dominate the region - is being urged to withdraw from its western path by Russia and its supporters. As Salome Samadashvili, ex-Ambassador of Georgia to the EU assumes, Russia wants to accomplish its plan via the ballot box, at the next Georgian elections.
Logically, this is an ideal moment for the Russian government to manipulate social and political processes in Georgia and change the country's internal political climate. For instance, disseminating fabricated information through Russian media sources throughout Georgian citizens allows Russia to widely seed its propaganda among financially, socially and psychologically frustrated people.
Likewise, media sources such as "NTV", "Mir" or others, have been effective tools for Russia in implementing its plan in Georgia and beyond. Furthermore, some Georgian media sources, such as "Asaval-Dasavali" [printed newspaper] or "Obieqtivi" [objective – media union] as well as others, receive government funding but seem to be serving against the interests of Georgian citizens.
What conclusion can be drawn from this situation?
Clearly, one of the short-term strategies of the Russian government is to promote pro-Russian parties in Georgia for the elections of 2016 thereby seriously thwarting the country's Euro-Atlantic integration process.
How should the Georgian people and citizens of Georgia counter this challenge to the country's sovereignty? Looking at the possible consequences it is understandable why many are echoing TI's calls for restraints to be placed on such outlets.
24 September 2015 21:29