Tensions escalate at Armenian-Azerbaijani border ahead of New York talks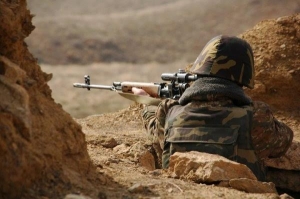 Ahead of the Armenian and Azerbaijani negotiations, foreign affairs ministers Eduard Nalbandyan and Elmar Mamedyarov are in New York.
The Azerbaijani side opened a heavy artillery strike against Armenian villages in the Tavush region on 24th September. As a result of the violation of the ceasefire regime by the Azerbaijani military forces, three Armenian civilians were killed (all the civilians were female) and two others were wounded.
After the incident, the Armenian Defense Ministry has released a press statement which says, "The Armenian Ministry of Defence declares that the evolving situation is a result of wily policies of Azerbaijani political-military leadership and is bluntly in breach peace initiatives of OSCE Minsk Group Co-Chairmanship",- the Ministry statement reads.
The Defense Ministry has also stated that the responsibility of future consequences lie on the shoulders of the Azerbaijani military "The Republic of Armenia urges the Azerbaijani civilian population on the border areas to refrain from becoming a human shield for the military of Azerbaijan", - the press release says, highlighting that Armenian military forces will take necessary measures to stabilise the situation, the consequences of which will be on the shoulders of Azerbaijani leadership" - the statement said.
26 September 2015 15:38