Georgian Films at Cinema Festival London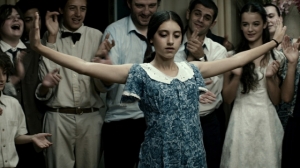 For the fourth time the Georgian Film Festival will be held in London's Regent Street Cinema.
The cinema, with around 180 seats, will host the festival from October 1st-7th.
Various films will be shown, including Georgian documentaries, short films and old masterpieces.
London's Georgian Film Festival was first held in 2005 and is organised by the British Georgian Society.
The festival will be opened by director Zaza Urushadze's 'Tangerines' with the director in attendance.
On October 6th director Otar Ioseliani will present his new film 'Winter Song' with it being shown alongside 'Corn Island', 'In Bloom' and other films dating back 100 years.
Many famous faces will be in attendance to head talks. They are: Aka Morchiladze, Ronald Reyfield, Nanuka Chichua and an American poet who has recently translated 'Vepkhvis Tkaosani'. Zaza Urushadze, Giorgi Ovashvili, Levan Tutberidze, Otar Ioseliani, Nino Kirtadze Uta Bebia and many others will also be at the festival. The festival, which is entering its 10th year is a historic even in Great Britain with many people finding it a great way to discover Georgia's unique culture and landscape.
For the full program please click HERE.

Nina Ioseliani
28 September 2015 17:59