Reuters: Countries Pledge 40,000 UN Peacekeepers at UN Summit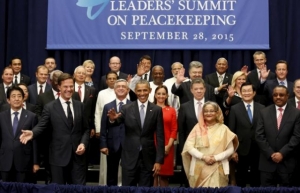 "U.S. President Barack Obama announced on Monday more than 50 countries have pledged some 40,000 peacekeepers for possible deployment on United Nations missions, as well as helicopters, medical units and training and equipment to deal with roadside bombs," Reuters reports.
According to Reuters, Obama chaired a summit of world leaders at the United Nations to garner commitments to boost the capacity and capabilities of UN peacekeeping and to allow the world body to deploy forces more rapidly if a new operation begins.
"Our goal should be to make every new peace operation more efficient and more effective than the last," Obama said.
Samantha Power, the U.S. ambassador to the United Nations noted that in addition to some 40,000 new troops and police, "more than 50 countries had pledged to provide more than 40 helicopters, 15 military engineers and 10 field hospitals." China made one of the biggest commitments. President Xi Jinping pledged to set up a "permanent peacekeeping police squad and build a peacekeeping standby force of 8,000 troops."
This week, world leaders have assembled in New York to discuss pressing global issues including conflicts and escalations such as Syria and Ukraine.
29 September 2015 17:06