Garibashvili Tells UN of Georgia's Gender Equality Efforts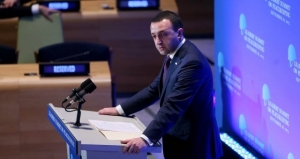 Georgia has shown a full-hearted understanding that gender equality is fundamental to democracy and sustainable development, said Georgia's Prime Minister Irakli Garibashvili addressing the 70th session of the UN General Assembly.
"In 1994 we signed and ratified the Convention on the Elimination of all Forms of Discrimination against Women. Since then, we have worked hard to implement our commitments," Garibashvili said.
In 2011, the Parliament of Georgia approved the 2012-2015 National Action Plan for the implementation of the UN Security Council Resolutions on "Women, Peace and Security".
In 2013, Georgia adopted the Domestic Violence Action Plan 2013-2015, which was followed by the National Action Plan on Gender Equality for 2014-2016.
"Georgia fully recognizes the benefits of enhancing women's participation at all levels of decision-making processes. My government benefits from the leadership of women Ministers of Defence, of Justice, of Education. Critical positions such as that of Secretary of the National Security Council, Chair of the Central Election Commission of Georgia, and Chair of the Supreme Court of Georgia are also held by women," Garibashvili said in his speech.
He also highlighted that 2015 is the "Year of Women" in Georgia.
He announced that Georgia is gearing up to host an International Conference on achieving gender equality in the European Neighbourhood region on November 9-10.
Garibashvili also specified the steps his government is going to take to empower women in the country.
These include continuing to update, enhance and develop the next phases of Gender Equality, Domestic Violence and Women, Peace and Security National Action Plans, and enhancing institutional mechanisms on gender by setting up and resourcing an inter-ministerial commission.
There are also plans to update and reform Georgia's legal system, with international partners jointly addressing the practice of early marriage.
29 September 2015 18:05