Strokes of Genius 11 Includes Georgian Artist Songulashvili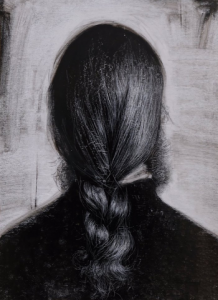 Georgian artist Levan Songulashvili has been announced as one of the winners of Strokes of Genius 11 - an art drawing competition held annually by Artists Network. All winning art was selected by special guest juror, contemporary artist Steven Assael, and will also be featured in North Light Books' hardbound showcase of the best in contemporary drawing. The four top winning pieces selected by the judges will also appear in Artists magazine. "From quick contour sketches to carefully rendered drawings with a full range of values, we will showcase the best of the best in a variety of styles and subjects," says the competition website.
Two of Songulashvili's pieces were chosen - Dionise (2018) and Face (2017). They are both representative of Songulashvili's unique character as an artist, black ink on paper.
The theme for Strokes of Genius 11 was Finding Beauty - broadly interpreted.
Strokes of Genius is a popular, well known artbook series that features hand drawn art from some of the top contemporary artists, along with the artist commentary explaining the piece's creation and design process.

27-year old Songulashvili was born in Georgian but lives and works in New York City. His artwork can be found in private collections around the world and on display as part of the permanent collection in the Brooklyn Museum. At the beginning of the year, Songhulashvili held a large multimedia exhibition, "Styx," in Tbilisi's ERTI Gallery.
By Samantha Guthrie
Photo: Levan Songulashvili
28 December 2018 12:44