3rd Anniversary of 1st Peaceful Democratic Transition of Power in Georgia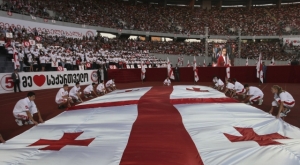 Today is the third anniversary of the 2012 parliamentary elections in Georgia. The elections were the first peaceful transition of power between different political forces.
The Georgian Dream coalition, led by Georgian billionaire Bidzina Ivanishvili, gained victory over the then ruling party, the United National Movement, who were in power since the 2003 Rose Revolution.
The 2012 elections were followed by the 2013 presidential elections and the 2014 local elections, where the Georgian Dream coalition gained majority on all levels of government.
The above-mentioned events are considered a serious step for Georgian politics in terms of democratic advancement and Euro-Atlantic integration.
01 October 2015 14:38