Transgender Woman Anastasia Pirveli To Represent Georgia in Eurovision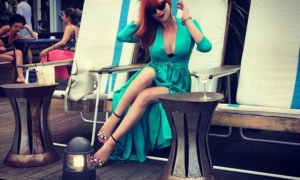 Transgender woman Anastasia Pirveli will represent Georgia at the next Eurovision song contest in 2019.
Georgia is known as being a staunchly conservative country with a poor record of discrimination against the LGBTQ community. In 2013, an anti-homophobic rally in Tbilisi was met violently by thousands of protestors opposing homosexuality.
Pirveli's participation in the Eurovision song contest is a move in the right direction for gay rights and anti-discrimination in Georgia.
Anastasia Pirveli gained attention after friends posted videos of her music on social networks. When asked in an interview with Prime Time how she thinks her music will be received by Georgian society, she replied: "I want [the public] to evaluate my talent and not my personal life."
On January 12, Anastasia will perform on Star of Georgia. It will be the first time a Georgian transgender woman performs on the show.
by Amy Jones
Photo source: esc.ge

08 January 2019 17:54