Khachapuri Granted Cultural Heritage Status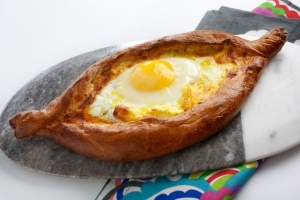 The traditional method of making khachapuri has been granted the status of Intangible Cultural Heritage of Georgia.
The boat-shaped bread filled with cheese has been made in regions across Georgia for centuries. The National Agency for Cultural Heritage Preservation which seeks to protect and develop the cultural heritage of Georgia, listed khachapuri as culturally intangible this week.
Khachapuri is one of the most popular dishes in Georgia, especially among visitors. It has recently received worldwide recognition after being featured as one of TasteAtlas's top 100 dishes.
Khachapuri joins other traditional food-making methods such as dambal khatcho, a dish made from curd from the Pshavi highland region and ajika, a spicy sauce from Megrelia and Abkhazia on the list.
By Amy Jones
Photo source: The Washington Post
Related articles:
Georgia's Khachapuri Listed among Top 100 Dishes
24 January 2019 16:33