Ancient Astronomical Manuscripts to be Published in Georgia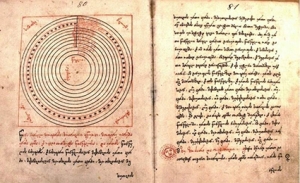 The Georgian National Center of Manuscripts has published ancient documents showing the Georgian, Persian and Arabic methods of studying space, in both print and digital formats.
The project presentation was held at the National Center of Manuscripts on September 29 and revealed materials studied and published by the center with the collaboration of Ilia State University and funded by the Shota Rustaveli National Scientific Foundation.
According to the Center, the publication consists of over 300 materials found in both local and international historic archives.
"We prepared and published an interactive database 'Astronomical Manuscripts in Georgia'. The database contains rich textual and graphical information, catalogues, tables, and more. Georgian astronomical manuscripts make up the main part of the database and have the index GAM – Georgian Astronomical Manuscripts. We also prepared a second catalogue of astronomical manuscripts which consists of Persian and Arabian astronomical material. This catalogue is also presented in the database. These manuscripts received the catalogue index AM – Astronomical Manuscripts," reads the statement released by the Center.
Project insiders hope that their work will give impetus to further research on astronomical manuscript material preserved in archives in Georgia.
Tatia Megeneishvili
01 October 2015 20:21