Tbilisi Hosts New Nordic Fashion Exhibition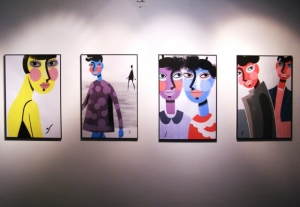 The Zurab Tsereteli Museum of Modern Art will host the New Nordic Fashion Exhibition, a show which will present 21 Nordic fashion illustrators' works. The exhibition will run from 9th October at 13:00 to 13th October at 18:00.
The exhibition has been organized by the Estonian embassy in Tbilisi, the embassy of Sweden in Tbilisi and the Danish and Norwegian embassies in collaboration with Tbilisi Fashion week.
Although the unique sketches will be auctioned off in order to support First Step Georgia (NGO dedicated to enhancing the quality of life for children with special needs) and Dog Organization Georgia (a dog shelter.)
The participating countries are Estonia, Denmark, Sweden, Norway and Finland. Participating illustrators are as follows: Marju Tammik (Estonia), Anu Samarüütel (Estonia), Britt Samoson (Estonia) ,Kätlin Kaljuvee (Estonia), Cecilia Carlstedt (Sweden), Stina Persson (Sweden), Daniel Egneus (Sweden), Sara Andreasson (Sweden),Liselotte Watkins (Sweden) , Naja Conrad-Hansen (Denmark), Mia Marie Overgaard (Denmark), Mads Berg (Denmark) and others.
The exhibition is supported by Adamanti, Stampesie Delicatessen and Restaurant and Georgian Events.
Nina Ioseliani
03 October 2015 11:01