The Guardian: Tbilisi's Cultural Revolution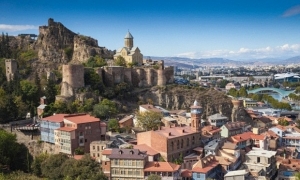 The Guardian, a famous British media outlet, has dedicated part of an article to the transformation of Georgian traditions into alternative art in the capital city, Tbilisi.

Tara Isabella Burton, the author of the article, spent five years in Tbilisi and highlighted the fact that even the Georgian capital is steeped in tradition but a new generation of artists and entrepreneurs is offering an alternative to the old ways with stylish bars, hotels and galleries.

"Ask the average Georgian about the traditions of this former Soviet nation in the Caucasus and you'll get a rhapsody about calorific 12-hour supra feasts, wine downed in a gulp from hollowed-out rams' horns, loquacious toasts to the Virgin Mary and St George and Kalashnikov-toting mountain shepherds who drink moonshine out of hand grenades" Burton commented.

Burton emphasized that it's mostly the generation of young, often foreign-educated, artists and entrepreneurs who long to revive Tbilisi's 19th-century status as a forefront of cultural revolution.

"In the backstreets of the city's old town - all art nouveau angels, crumbling facades, and black-skirted women hawking bunches of coriander from street tables – new galleries and bars (invariably unmarked) cater for Georgian artists and activists seeking an alternative to traditional ways," the article states.

To read the full story click here.
Tbilisi old town and Narikala fortress. Photograph: Corbis
04 October 2015 15:00