Deal Signed to Promote Chinese Language in Georgian Schools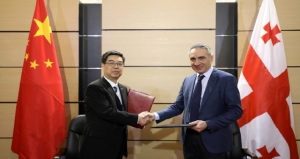 On February 15, Georgian Education and Science Minister Giorgi Batiashvili presented a new education agreement, signed in cooperation with China, to popularize Chinese language in Georgian secondary schools. Chinese lessons will now be offered to students in accordance with the national curriculum standards.
This deal, aiming to encourage Georgian students to learn Chinese, will strengthen the relations between Georgia and one of its main economic partners.
This decision is said to show the government's willingness to increase the use of Chinese language among the working population in the years to come, to help augment the number of commercial exchanges between the two countries.
By Sophie Pouzeratte
Photo Source: Ministry of Education
19 February 2019 16:15