Renowned Georgian Pianist Awarded Honorable French Order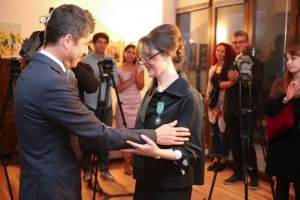 Acclaimed Georgian Pianist Elisso Bolkvadze was awarded an honorable order for her outstanding contribution to the development of culture.
The Minister of Culture for France, Fleur Pellerin, personally awarded Bolkvadze the Order of Arts and Letters (Ordre des Arts et des Lettres) for her personal commitment to cultural exchanges between France and Georgia.
The pianist has made an international career in Switzerland and France before heading off to the United States, Russia and many other European countries.
She has won several international competitions and made numerous albums with both 'Sony' and Swiss label 'Cascavelle'.
Bolkvadze also has incredible organisational skills, making sure that the classical music festival goes ahead in Batumi for three years in a row.
She was named UNESCO Artist for Peace on January 22nd 2015 which enabled her to conduct numerous events thanks to the organization. The money raised from her concert will be used as part of the UNESCO-led welfare program fund, which finances the educational programs for war-affected children in Syria.
11 October 2015 12:00