Political Unrest Follows Constitutional Changes in Armenia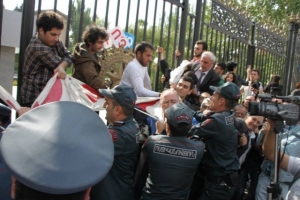 Armenian political movement, No Front, announced on October 5th a string of large rallies in Armenia's regions to protest the constitutional changes suggested by the president Serzh Sargsyan.
A rally is planned in the capital Yerevan as well on October 30th.
Previously, No Front has been successful in creating a critical mass demanding change in Armenia's second largest city, Gyumri, and in Yerevan.
The announcement of the planned protests, comes after police used force against a crowd gathered in front of the Parliament building and detained 21 activists of the movement. The rally protested parliament's vote on the largely criticized constitutional change.
The secretary of the largest opposition group in the parliament, MP Aram Manukyan, was mistreated by the police as well, allegedly in an attempt to detain him in spite of his parliamentary immunity.
The police were forced to release all the detained activists within hours, after the rally in front of parliament had relocated to the police station demanding the detainees release.
In spite of the opposition, the parliament approved the constitutional change suggested by the president's administration.
The president must sign the amendment within 10 days, after which a national referendum will be held to vote for its approval.
The referendum will most likely take place in the beginning of December.
The representatives of No Front say the changes in the constitution will allow the current president to prolong his power, in a new position as speaker of the Parliament, or as Head of State.
Sargsyan's second and last term ends April 2018.
The opposition views the constitutional changes as a coup d'etat, arguing that it would risk Armenia's future and is a direct step to establish a mono-party system in Armenia, converting the state into a dictatorship.
Levon Zourabian – Vice President of the Armenian National Congress, lead by the first president of Armenia Levon Ter-Petrosian – called on the ruling party to delay the constitutional referendum.
The party hopes to avoid disunity in society as a result of the referendum, as this may lead to distrust in the regime.
The party fears mass rallies aiming to overthrow the government.
06 October 2015 15:11