Mirian Khukhunishvili: The Maestro of the Tbilisi Youth Orchestra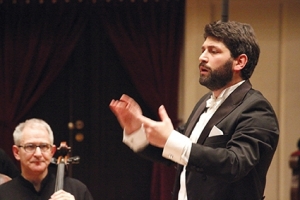 Exclusive Interview
Mirian Khukhunishvili is a well-known conductor on the Georgian classical music scene. Since performing his first concert in 2012 with Georgian jazz musician Zaza Marjanishvili, his career has grown rapidly. He has conducted at Telavi International Music Festival alongside pianist Eliso Virsaladze and has worked with the Georgian National Philharmonic Orchestra, Tbilisi Symphony Orchestra, Georgian Sinfonietta, and the National Choir, among others. He has also participated in prestigious international competitions. GEORGIA TODAY sat down with him to discuss his life, music, and the beginning of the Tbilisi Youth Orchestra.
Originally from Tbilisi, music has been part of Mirian's life since a young age. "My father was an amateur singer. He took me to the children's choir Martve in Tbilisi. First, I sang folk music and studied piano," says Mirian. "Later, I went to music school." Despite encouragement from his family, especially his mother and sisters, they were surprised by his choice to study music into his adult life: "Everyone thought I was crazy when I decided to study at the conservatoire," he smiles. "They expected me to become an architect and I chose to study music."
Mirian was inspired to become a conductor whilst performing in concerts in Switzerland aged 10. "I liked the guy who was conducting, he was full of energy, and funny. From that moment, I wanted to become an orchestral conductor," he says. "I love choir, I love singing. All the time I sing in different choirs. But orchestral conducting was my dream."
He went on to study music to a Master's level at the Krakow Music Acadamy in Poland after being awarded a scholarship. He also received a Master's degree in choral conducting from Tbilisi State Conservatoire.
Since returning to Georgia, he's turned his attention to a new project - establishing a Tbilisi Youth Orchestra together with his partner Mikheil Mdinaradze. Last month, he received the contract to begin a youth orchestra from the Tbilisi National Youth Palace. It was a long and difficult process to receive approval and funding. "I was waiting two years for this project and an answer from the government," he says. "Finally, we have the budget, and our home is the Tbilisi National Youth Palace on Rustavelli. We started on Monday."
The Tbilisi Youth Orchestra is the first of its kind to be established since 1989. "Not only me, but many musicians and orchestral conductors wanted to establish a Tbilisi Youth Orchestra in the past," Mirian tells us. Mirian and Mikheil worked hard to gain the necessary resources. It was only possible with the support of the Vice-Mayor of Tbilisi, Sophio Khuntsaria, and the Director of Tbilisi National Youth Palace, Tika Rukhadze. "She said come and make an orchestra here. She offered us use of the concert hall whenever we need it, the purchase of instruments, and basically said, let's do this! She really helped us, she fought for us."
A youth orchestra is especially important as it enables the most talented students to gain practical performance experience in Georgia. Mirian decided to set a loose age limit to help musicians: "I think that everyone should have the chance to gain experience in an orchestra. We have one guy who's 36. He only just started to learn the bassoon so, when he came to the audition, I took him on," he grins.
Many talented Georgian musicians move to Europe to gain musical experience. "There is a lack of professional musicians in Georgia," Mirian tells us. "Many of the best musicians go and stay in Europe to study and work full-time. Europe is a cradle for classical music. The salary and level of professional orchestras are higher than here."
Members of the Youth Orchestra are offered a part-time job with half the salary of a professional orchestra, in order to encourage them to stay in Georgia. "They can do what they love, and also study at the same time," says Mirian.
Mirian is a star example of finding success in Georgia. He tells us of one of the proudest moments of his career performing alongside Georgian pianist Eliso Virsaladze, the "Queen of Pianists." "I never dreamed of performing with her. She's 74 and I was too young. I thought by the time I possibly developed my career, she would already have finished hers." Luck was on his side as he was asked to conduct a rehearsal for Telavi International Music Festival in 2015 after the chief conductor was unable to attend. "They couldn't find a replacement, so they invited me the day before," says Mirian. "I had just one night. I said to myself I have one chance. I was studying the scores all night," he laughs. The following year, organizers invited him back to conduct the festival's closing concert with Virsaladze.
Mirian's passion for music in Georgia and beyond is tangible, both in his work as a conductor and on projects such as the Tbilisi Youth Orchestra. Now, he plans to split his time between Georgia and Krakow as he finishes his PhD this autumn. But will he stay in Georgia? "I love my country," he says, "when I see that I can do something here and if I see I can change something in a good direction, I'm ready for it."
By Amy Jones
Photo source: Ilia Baburashvili
21 February 2019 18:14