Salome Zurabishvili Meets Angela Merkel in Berlin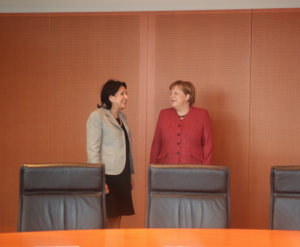 Georgian president Salome Zurabishvili has met with Georgian Chancellor Angela Merkel during her visit to Germany on February 20 - 21.
The pair discussed challenges in Georgia, including Georgia's occupied territories and Russian policy towards Georgia. They also discussed European integration.
Zurabishvili underlined Georgia's dependence on its friends to handle the situation with Russia: "Georgia's friends and partners: Germans, French, and Americans should be more actively engaged in dialogue and repeat to Russia to make them [Russia] understand that its necessary to change their position," said Zurabishvili.
Zurabishvili also spoke of the importance of Geneva International Discussions: "It's time to demand more from our partners so that they use more levers," she noted.
As part of her visit, Zurabishvili also met with President Steinmeier to further discuss German-Georgian relations and Georgia's European aspirations, as well as with members of the local diaspora in Germany.
By Amy Jones
Photo source: Salome Zurabishvili's Twitter
21 February 2019 19:14