Tinatin Khidasheli to Participate in NATO Defence Ministerial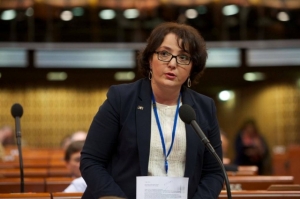 Brussels will host the annual NATO Defence Ministerial at NATO HQ on October 8th. Defence Minister of Georgia, Tinatin Khidasheli left for Belgium early this morning, the Georgian Defence Ministry has stated.
According to the Ministry, Khidasheli will be meeting with NATO Secretary General Jens Stoltenberg and Chairman of the NATO Military Committee, General Petr Pavel.
At the NATO Headquarters the Defence Minister will be holding bilateral meetings with her French, British, Romanian and Bulgarian counterparts. Khidasheli will also hold a meeting to conclude an agreement with her Polish Colleague.
"To my mind the Ministerial will be very productive as it is the last meeting before the NATO Foreign Ministerial in December. We will have the chance to present our arguments and positions thoroughly. I hope the visit will be successful," Defence Minister Khidasheli stated.
The NATO Defence Ministerial will be meeting to discuss the turmoil in the Middle East and North Africa, Syria and Ukraine as well as the security situation in Afghanistan.
07 October 2015 19:35