De-facto Abkhazian Government Receives Important Archival Documents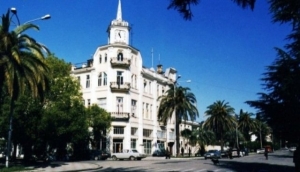 The de-facto Abkhazian Ministry of Foreign Affairs said they received technical documentation on Abkhazian towns from the Georgian government.
The handing over of documents comes amid the Geneva discussions, peace talk between Georgia and its breakaway regions.
"The Georgian side also handed over other significant materials which will be sent to Abkhazia's archival institutions." a statement by the Abkhazian Ministry of Foreign Affairs reads. According to the de-facto Ministry, continuing cooperation in terms of archival materials between the two parties has been agreed.
"Within the framework of the discussions, the Abkhazian side stressed once again that a legal document on non-usage of force needs to be signed. The issue of IDPs was not discussed during the negotiations," the statement said.
Abkhazia is one of Georgia's breakaway regions, which unofficially is being controlled by the Russian Federation. The region has been governed by the de-facto government since 1993. The international community recognizes both Abkhazia and Tskhinvali region [formerly South Ossetia] as inseparable parts of Georgia.
08 October 2015 13:43