Foreign Minister: NATO Secretary General's Messages on Georgia's Progress Lucid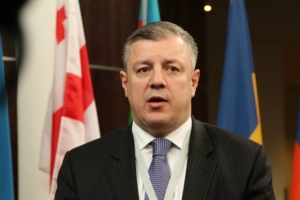 Georgian Foreign Minister, Giorgi Kvirikashvili, said NATO Secretary General Jens Stoltenberg recognized Georgia's significant progress and thanked "[us] for our contribution to the international security missions."
Defense Minister Tina Khidasheli attended the meeting with the NATO Secretary General at the NATO HQ in Brussels as well. "We talked about the preparation process for the December ministerial." Kvirikashvili said.
Other main issues discussed were the NATO integration process and the preparation for the 2016 Warsaw Summit.

"We also discussed the security situation in the region. The Secretary General promised assistance in consolidation of the opinion on reflecting upon Georgia's progress. Time will show us how this progress will be reflected upon, through MAP or something else. Our duty is to do our best in this direction, and of course, MAP is a logical next step that Georgia should expect; however, the ultimate goal of Georgia is NATO membership. We stressed that NATO membership remains one of the most important issues on the political agenda of the government of Georgia." the Foreign Minister said.
08 October 2015 13:57