United National Movement Proposes Early Elections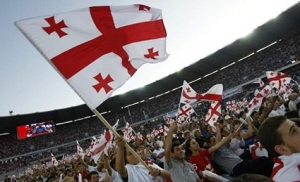 United National Movement (UNM), the main opposition force in Georgia has begun activities demanding Bidzina Ivanishvili, former Georgian PM, step back and a date for early parliamentary elections be appointed.
Irakli Batiashvili, member of The Democratic Movement party, says former government [UNM] members are planning an attack on Bidzina Ivanishvili. 
"I have this information from a reliable source, with which I have had relations since the period when I was the Chairman of Information and Intelligence Service. The former government representatives who are now in emigration are planning a terror attack to kill Ivanishvili. Certain individuals have already arrived here to prepare the attack," Batiashvili stated.
In response to Batiashvili's accusation, Akaki Bobokhidze from the UNMsaid: "Irakli Batiashvili must have got his information from the Russian security service." As Bobokhidze explains, the UNM is far from having any such plan. "But it seems he misunderstood the information"- Bobokhidze went on- "as in fact the Chechens and Kazakhs may be planning on retaliating against the former Prime Minister for his old sins."
In the meantime, Nino Burjanadze, one of the main Pro-Russian forces from the Democratic Party in Georgia, commenting on last week's querulous elections of the Georgian Football Federation (GFF), emphasized that "if the parliamentary elections are conducted like the GFF elections, it will not pass peacefully." 
Burjanadze claims that the leaders of opposition political parties paid no attention to the elections in the GFF. Burhanadze commented that observance of election processes is the case in normal states, but unfortunately, Georgia could not manage to become a democratic country.
It seems that the Georgian internal political environment, amid the government's failure to fulfill the promises of the 2012 elections, is becoming more complicated over time.
Likewise, Russian information propaganda robustly endeavors to undermine Georgian sovereignty and mislead society by creating a negative icon of the EU and NATO in the country. Moreover, the number of disappointed voters in Georgia has steadily been growing, as 'democracy has offered no tangible results in the short run.' It is believed that this highly intricate process could simply be taken as an advantage by Russian political forces in the country to win a considerable number of places in the Georgian Parliament.
Is the United National Movement and the overall political atmosphere in the country ready for snap elections? How could the political and social processes develop in the country throughout the year before the regular date of elections of October 1, 2016?
Steven Jones
08 October 2015 20:48