Tbilisi Opera for Young Singers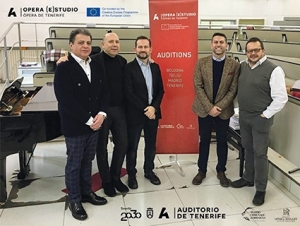 The Tbilisi Opera and Ballet State Theater carries out a number of projects to support young Georgian singers. One of them is Opera (e)Studio, a joint project by the Tbilisi Opera, Ópera de Tenerife and the Teatro Comunale di Bologna. The project is aimed at assisting young vocalists in their professional development. The initiative is co-funded by Creative Europe, the European Commission's framework program for support to the culture and audiovisual sectors. The project fosters firm and long-term cooperation between the Tbilisi Opera, Ópera de Tenerife and Teatro Comunale di Bologna. Opera(e)Studio is designed for young singers who have obtained a formal education, but who are in need of developing professional skills, to become more competitive and meet the requirements of the contemporary market. 10 young singers were selected through international auditions that took place in February in the following cities: Tbilisi, Bologna, Madrid and Tenerife. In total, 181 singers from 33 countries took part in the competition.
The participants were selected by an Artistic Board comprised of Giulio Zappa, Director of the Opera(e)Studio Academy; José Luis Rivero, Artistic Director, Auditorio de Tenerife; Alejandro Abrante, Opera Intendant, Opera de Tenerife; Fulvio Macciardi, Opera Intendant, Teatro Comunale di Bologna; Badri Maisuradze, Artistic Director, Tbilisi State Opera and Ballet Theater.
The selected candidates will undergo a one-month professional intensive course in all disciplines related to the opera in Tenerife, Spain. Additionally, they will attend workshops and most importantly will take part in a famous opera, Gaetano Donizetti's The Elixir of Love. The opera is a co-production that will be premiered in all three participating theaters in the course of the 2019-2020 season.
Selected singers from different countries are: Maria Rita Combattelli and Beatriz de Sousa in the role of Adina; Klodjan Kaçani and César Arrieta in the role of Nemorino; Alberto Bonifazio and Jacobo Ochoa in the role of Belcore; Givi Gigineishvili and Matteo Andrea Mollica in the role of Dulcamara; and Sofía Esparza and Eleonora Boaretto in the role of Giannetta.
Badri Maisuradze, Artistic Director of the Tbilisi Opera and Ballet Theater, spoke to GEORGIA TODAY about the joint project. "As a result of international auditions, two casts were selected for Gaetano Donizetti's L'elisir d'amore (The Elixir of Love). These 10 winners represent seven countries, including Georgia, Spain, Italy, Albania, Columbia, Portugal and Venezuela. The production team is made up of young professionals. The director of the production is Pablo Maritano, who is inspired by the Golden Age of cinematography, and a magical world will be created through different Hollywood film sets of that time. In Tbilisi, the opera will be premiered in February 2020," he told us, adding that yet another successful premiere awaits the audience in Tbilisi.
"The international project co-funded by Creative Europe is being implemented in collaboration with partner theaters," Rusudan Matsaberidze, Director of International Relations and Development Department, Project Manager in Georgia, told GEORGIA TODAY. "The program is increasingly important not only for the advancement of young vocalists, but also for deepening cooperation with European theaters, one of the top priorities for the Tbilisi Opera. In the project, Georgia will be represented by talented young singer Givi Gigineishvili, who is known to the Georgian public and who will have an opportunity to enter the international musical scene," she noted.
We spoke to Givi Gigineishvili about his success.
"I feel lucky to be one of the 10 participants chosen by the project's Artistic Board. In September, I'll be traveling to Tenerife where for two months I'll take an intensive course and together with my colleagues work on the opera L'elisir d'amore by Gaetano Donizetti, that will premiere in the theaters of Tenerife, Bologna and Tbilisi. I will perform the role of Dulcamara. Performing in such theaters is a big honor and a great experience for me on the international scene," he.
Givi Gigineishvili was educated in Georgia. He graduated from the Batumi Art Teaching University (Bachelor's degree) and V. Sarajishvili Tbilisi State Conservatoire (Master's degree). He has performed different roles in well-known classics over the course of his career, among them Don Basilio in Rossini's Il Barbiere di Siviglia at the Tbilisi State Conservatoire Opera Studio (2015); Dulcamara in Donizetti's L'elisir d'amore (2017) and Zuniga in Bizet's Carmen (2017) at Tbilisi Opera and Ballet Theater; A Monk in Verdi 's Don Carlo (2018) and Colline in Puccini's La Bohème (2018) at Immling Festival, Hafling; A Sacristan in Puccini 's Tosca (2019) at the Tbilisi Opera and Ballet Theater. In 2015, he was a Finalist of the Georgian Competition Of Musician-Performers and won the prize for the Best Verdi Performer at the Lado Ataneli Competition.
By Lika Chigladze
Photo: Members of Artistic Board
16 May 2019 17:13