The US Wants Chinese, Russians Kept Out of Anaklia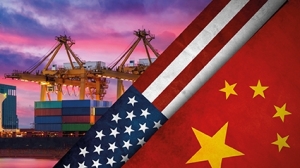 Georgian PM Mamuka Bakhtadze's visit to Washingtom a couple of days ago came at a time of heightened debates surrounding the Anaklia Deep Sea Port as well as international tensions between the US and China over trade and technology.
Part of US Secretary of State Mike Pompeo's statement is of particular interest to us: "…I communicated our hope that Georgia completes the port project. The project and others will enhance Georgia's relationship with free economies and prevent Georgia from falling prey to Russian or Chinese economic influence. Those pretend friends do not have Georgia's best interests at heart."
The statement is notable in several ways. First, the mention of the Anaklia Deep Sea Port which has of late experienced a number of financial setbacks and some criticism from the government in Tbilisi. The construction of the port was put into question and there was a growing fear that it might be abandoned entirely.
Pompeo's words essentially negated this possibility and it is now highly likely we will see the successful completion of Anaklia Port in the near future.
But more notable is that Washington now increasingly regards the Anaklia project as a part of the geopolitical battle which is now opening up with China. Russia too was mentioned by Pompeo, but the US has often criticized Russia for its actions in Georgia. Yet, the mention of China within the context of Georgia is something new.
Georgia's current geopolitical circumstances and those of global powers such as China, the US and the EU, converge on the significance of the Georgian Black Sea ports as a transit post for Chinese goods to Europe, and vice versa.
Essentially, the US expressed its intention to be a leader in the Anaklia project. Washington regards the port from the perspective of the ongoing struggle against China in Eurasia. China is interested in ports, railways and other critical infrastructure around the world and quite naturally Anaklia would be a focus of Beijing's attention. The US thus will try to obstruct any Chinese moves where possible and it seems that Anaklia has become one of those places.
It is also notable that this strong-worded statement from Pompeo comes weeks after after the Chinese Foreign Affair's Minister visited Georgia for the first time in decades. Perhaps there were concerns in Washington that China might try to use the issues surrounding Anaklia to help out the Georgian government.
True, there is plenty of work to be done in and around Anaklia to cement this nascent transit advantage of Georgia on the global map. But international attention paid to Anaklia means that the current and subsequent Georgian governments will always be interested in further development of Anaklia as well as Poti and Batumi.
This interest comes out of Georgia's current geopolitical circumstances where Russian pressure from the north propels Tbilisi to seek ways to counter-balance Moscow. In that sense, the success of the Anaklia-Poti-Batumi line is directly linked to how strongly Georgia's position would be defended internationally.
Overall, I would reiterate the point I have made in other op-eds for GT that the seeming ambivalence in recent months regarding the construction of Anaklia has been only an internal matter, even a local problem. Since large regional, even global powers are interested in Anaklia, its construction would proceed. It has also become clear that Anaklia has turned more into a geopolitical affair within the global confrontation between America on the one side and China and Russia on the other.
By Emil Avdaliani
Image source: prosperousamerica.org
13 June 2019 18:50