Tbilisi Protests Russia's Gazprom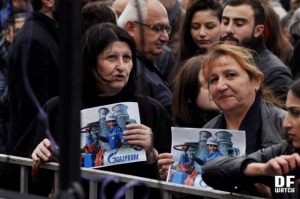 On Saturday, at the State Chancellery, the protest 'No to Gazprom' rallied against Gazprom's possible entrance into the Georgian energy market. Energy giant Russia is believed to attempt to re-enter Georgia and is said by some to be a non-trivial tool for the Russian government to manage political processes on the ground.
The concerns arose after the government initiated talks with Russian energy company Gazprom. The rally involved politicians, public activists and members of the National Movement, as well as concerned citizens from all over Georgia.
Giorgi Badridze, ex-Ambassador of Georgia to the UK, addressed the rally. The ambassador underlined potential threats coming from a country which occupied 20 percent of Georgia's territory before, and called on the government to treat the energy security issue with extreme caution.
Badridze assessed the topic as a tremendous threat to Georgia. "It is a tool that Russia has already used against us and which it is determined to use in the future," the ambassador told Georgia Today.
He said, that if they [the Government of Georgia] need more gas, other possibilities than Russia should be considered.
"We learned our lesson in a very painful way in 2006. It was the coldest winter on record [and Russia cut off the gas supply to Georgia]. At the time Shah Deniz wasn't operating fully and Azerbaijan was not yet self-sufficient in gas supplies, but they offered to supply us with a certain amount of gas and planned to buy more from Russia. Russia immediately shut down the station at the border and claimed it was an accident. They say it's a cheap supply of gas but if the Russians choose to shut it down the price for not shutting down will be much higher than the price of the gas itself."
Tabula, a political magazine, organized the protest action against Gazprom's possible entrance into the Georgian energy market.
19 October 2015 12:32