Nika Gvaramia: No 2016 Election without Rustavi 2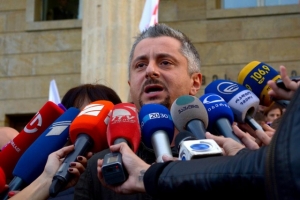 The reviewing process for the Rustavi 2 case was held yesterday at the Civil Court of Tbilisi. General Director of Rustavi 2, Nika Gvaramia, was banished from the court's hall but promised the supporters assembled there that "either the elections of 2016 will be held with Rustavi 2 or they will not be held at all."
The Chief of the country's largest broadcaster said all decisions are made by Bidzina Ivanishvili (the former Prime Minister) and he should not be allowed to disenfranchise the people of Georgia.
Gvaramia called on his supporters to gather again on October 22nd, when the review process of the case will be resumed. He stated this is very important in order to see how the government is attempting to devastate the media.
Gvaramia believes that Ivanishvili stands behind all the decisions concerning the 2016 elections stating that he believes Ivanishvili will "lose by all means" adding "it is said not only by me but also by international organizations.
"Rustavi 2 is not going to allow him [Ivanishvili] to steal the elections and people's free will. We will utilize all legal ways, however if courts in all three instances leave us beyond justice, then the people of Georgia must decide whether they want to live in a country where an 'evil maniac' [Ivanishvili] steals the freedom of the nation,' Gvaramia concluded.
20 October 2015 12:49