6th Fleet US Vessel Visits Georgia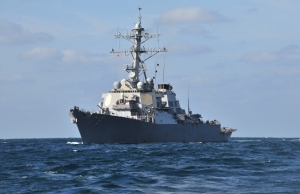 Today the USS Porter (DDG-78), an Arleigh Burke-class guided-missile destroyer from the United States' Navy 6th Fleet, made a port visit in Batumi. The US Embassy stated the Porter's visit reaffirms the US' commitment to strengthening ties with NATO allies and partners like Georgia, while working towards mutual goals like promoting security and stability in the Black Sea region.
Head of the Adjara government, Archil Khabadze, and coast guards have participated in a solemn ceremony held for the ship. Khabadze emphasized that the visit is noteworthy in terms of Georgia's security and the Black Sea region in general. The Captain of the Porter has been visiting the Black Sea region in order for cooperation between the regions to be deepened.
US Ambassador to Georgia Ian Kelly and US naval forces attaché Bill Connor will visit the vessel.
While in Georgia from 20th-23rd October, the Porter will conduct routine combined training with the Georgian Coast Guard and provide ship and press tours. The Porter's port visit will further build on the previous US Navy visits to Georgia and enhance professional partnerships and personal relationships between the United States and its allied and partner nations.
The Porter, which has been forward-deployed to Rota, Spain, is on a multi-mission role for the US. The 6th Fleet area of operations allows the US to contribute to regional maritime security, conduct bilateral and multilateral training missions and to support NATO operations and deployments throughout the Black Sea region.
The US Navy routinely operates in the Black Sea, which is consistent with the Montreux Convention and International Law.
20 October 2015 12:54