Carl Bildt: Garibashvili's statement is Outrageous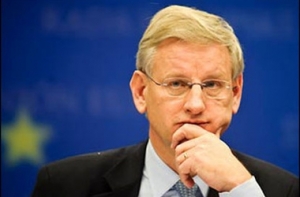 Sweden's former Minister of Foreign Affairs, Carl Bildt, called Georgian Prime MInister, Irakli Garibashvili's, statement, "outrageous" and "outside democratic decency" in his twitter post.
Speaking during a government session on Thursday morning, Garibashvili called the UNM opposition party a criminal organization, which has no moral right to remain in politics, while commenting on the so-called Barrels' video footage which was released by Ukrainian media.
"They should be grateful for the fact that over the past three years people have not done to them the same what is depicted in these videos – my remarks might be rude, but they deserve it," said Garibashvili.
In his statement Garibashvili also commented on the ownership dispute over Rustavi 2 TV and said that the UNM should "give up plans for any kind of provocation," and warned that the opposition party "will get what it deserves."
"You all know that the so-called Barrels' videos recorded in Samegrelo, western Georgia was released yesterday. The footage clearly shows the manner in which the National Movement treated Georgian civilians. I would like to inform you all that the victims are ordinary people living in the Samegrelo region. They are absolutely innocent having committed no crimes. I know one story about a man who was taken hostage from his own house at midnight and his pregnant wife was terribly treated and she lost the baby as a result. Then the man was taken away and tortured. Then they put him on trial for drug possession as they could not make him plead guilty for what he had not committed," Garibashvili said.
"I say all this as I have heard some assessments made by the criminal organization representatives. They still have some claims, but in reality, they have no moral right to make such statements," Garibashvili said.
Garibashvili also added that the National Movement should have apologized for the committed crimes, but they still continue humiliating society, trying to cause disturbance and chaos.
"From my point of view, such people have no moral right to stay in politics. The person raping people in the video symbolizes Saakashvili, his government and party leaders. He is a symbol of the organization," Garibashvili noted.
Garibashvili also highlighted that the public should assess and decide what we were dealing with for years [when UNM was in power].
"These were not staged situations, these are the actual stories, facts and I want to ask these people – how would you react if a victim in those videos was your family member, would you focus on how these videos were distributed or on terrible things that are depicted in these videos. I hope everyone has sense of justice," Garibashvili said.
"Of course the society is appalled and shocked by these videos and of course I understand their reaction and aggression – every day aggression is being directed against UNM offices or [offices] are shut down. This reaction is understandable and natural for me. Anyone would have such a reaction after watching those videos. Despite of that we should secure order and expression of protest should be done in frames of law and this reaction should not go beyond law," Garibashvili said.
22 October 2015 16:45